How Are Public Schools in the United States Actually Doing?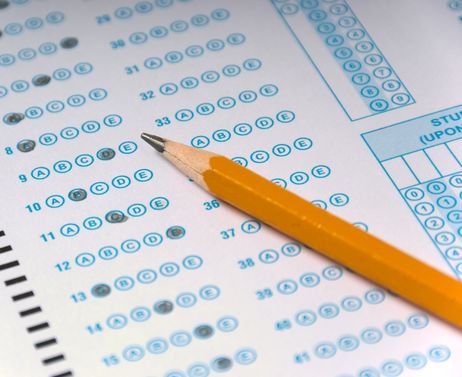 When asked to rank the quality of their child's school, most parents rated it a B average. And yet politicians would have you believe that the American public-school system is failing. How are America's public schools really doing, and how do we know?
If you listen to what just about any politician has to say about America's schools, you'll hear the word "failing" quite a bit. The fact is that education is a hot topic and it is one that can be used to inspire people to vote. But how much can you actually trust what a politician has to say about the American public education system? How are the public schools in America actually doing?
In 2017, Jack Schneider released a book called Beyond Test Scores in which he suggests that it is well past time to start rethinking the way we measure school performance.
Schneider writes that while test scores are the go-to metric used to evaluate a school's performance, they don't really paint an accurate picture. Using Somerville, Massachusetts, a highly diverse urban school district, as a case study, Schneider presents a new framework to assess the effectiveness of the American education system. Read on to learn more about Schneider's approach and to see data on how American public schools are really doing.
Changes to the U.S. News Ranking System
Each year, U.S. News publishes a list of the Best High Schools in America. For the 2018 school year, U.S. News ranked over 2,700 schools – some of the names topping the list were BASIS Scottsdale (AZ), Meridian School (TX), and the Baccalaureate School for Global Education (NY).
If you were to peruse the 2019 list of Best High Schools, you would notice quite a change. Not only does the 2019 list rank over 17,000 public high schools, but many of the schools that topped the rankings last year aren't even listed. What accounts for this discrepancy? A massive overhaul of the ranking system.
To create the 2019 edition of the Best High Schools ranking, U.S. News teamed up with North Carolina-based RTI International, a global nonprofit social science research firm. When asked, U.S. News cites the following reasons for revamping the rankings:
To expand holistically, enabling all eligible high schools to receive a ranking (previous editions only ranked about 14% of eligible schools).
To make the rankings easier to understand, both for families evaluating public schools in their area and for historic comparison in the future.
To compare schools using a more comprehensive approach, ranking on multiple disparate measures versus considering only proportions taking/passing college-level exams.
A more comprehensive and useful ranking system is definitely a positive thing, but the results make one thing very clear. The fact that simply changing the criteria by which public schools are ranked can so drastically alter the results of those rankings points to a serious problem – a similar problem the U.S. system of public education as a whole is facing. Read on to learn more.
How Are U.S. Public Schools Evaluated?
The ranking system used by U.S. News serves its purpose, but it points to the fact that the system itself skews the results. To give you another example, consider the Phi Delta Kappan Poll of the Public's Attitudes Toward the Public Schools issued to the parents of public-school students each year.
Each year, the PDK poll surveys over 1,000 Americans, asking questions about public school issues such as teacher pay, spending for schools, college tuition, and educational opportunities for all children. It also asks parents to rank their satisfaction with their kids' education. When asked to assign a letter grade to their children's schools, the majority of parents (around 70%) gave a mixture of A's and Bs – a B average. However, when asked to rate the nation's schools as a whole, parents gave a C or C- average.
What conclusion is there to be drawn? Are America's schools thriving or failing? It depends who you ask.
What many people don't like to think about is the fact that education and policy are closely linked. Education is a hot-button issue and it is great for politicians when public schools appear to be failing. If the nation's schools are doing well, there is no sense in changing things. But if they are in a state of turmoil or decline, it opens an opportunity for reform advocates to push for contentious policies that might drastically change the face of American public education.
Again, it is a matter of perception. The problem is that perception doesn't just impact the way Americans think about education – it also impacts the decisions they make about their kids' education.
If the majority of the American public has a poor perception of public education, parents will start competing for the small number of schools that are considered adequate. Unfortunately, it is often the case that more affluent families prevail and the effects of issues like residential segregation become more pronounced. According to an article written by Jack Schneider and published in The Atlantic, "if the average public school is of C or C- quality, this is rational behavior… but if most schools are good, segregation is being exacerbated by misperception.
This brings about the question of how America's schools are actually doing. What metric is most accurate to answer this question, and would the answer make much of a difference?
What Does a "Good" School Look Like?
If you were to ask a parent what a good school looks like, you would probably receive a rational answer. If you then asked the same question to a dozen other parents, however, you would likely receive a dozen different but equally rational answers.
So what does a good school actually look like and who gets to decide?
The current truth is that for the past decade and a half, since the No Child Left Behind Act was passed in 2015, standardized test scores have been one of the most significant measures of a school's success. In recent years, however, it has become abundantly clear that these test scores don't paint a complete picture. Research indicates that up to 60% of the variance in student test scores can be attributed to out-of-school factors like family and neighborhood.
If that doesn't seem significant enough, consider that teachers, the largest in-school influence, account for only 10% of that variance.
If we revisit the Kappan poll mentioned earlier, you'll remember that most parents gave the American public education system a C or C- average in 2018. In 2002, the year NCLB was signed into law, the majority of those polled (about 60%) gave a C or D grade. In 2015, that figure had risen to 69%. What these numbers don't show is that school performance, as indicated by standardized test scores, did not change significantly during that time.
In another research study, participants were asked to rate a familiar school and a school they had been randomly assigned. In the majority of cases, participants rated the familiar school a full letter grade lower than the unfamiliar school. Again, it is a matter of perception and not fact.
Later in that same study, however, something important happened. Participants were asked to rate unfamiliar schools using a more comprehensive ranking system. When they did, those rankings improved significantly. In fact, their rankings almost perfectly matched the scores given by participants who were familiar with those same schools. The takeaway? A more comprehensive data system has the potential to close the perception gap.
Where Do We Go from Here?
The current system used to evaluate the nation's public schools consists primarily of standardized test scores which many experts recognize as a misrepresentation of school quality. It is widely agreed that these scores say more about family income than they do about the schools they are supposed to be evaluating. They also say very little about what "good" schools actually do.
For example, standardized test scores can't tell you whether the students feel safe at school. Or whether they have a positive relationship with their teachers. Or whether they are learning valuable social and emotional skills they will use the rest of their lives.
It's impossible to accurately rate the quality of a school without taking these things into account. This is why parents with first-hand knowledge will almost always rank their kids' school higher than an unfamiliar school – because, regardless of test scores, they know the school.
So, where do we go from here?
Groups like the California Office for Reforming Education and the Massachusetts Consortium for Innovative Education Assessment have started to make changes in the way school quality is evaluated.
These groups believe that by creating a new school-quality framework that shifts away from standardized test scores and leans more toward the things teachers, parents, and students know, we can close the perception gap and come to a more accurate answer to the question, "how are America's public schools really doing?"
Being a teacher has never been easy but changes in federal funding and legislation have made it harder than ever for public school teachers. Keep reading to learn more.
Say goodbye to mystery meat - and all other types of meat - at public school cafeterias that are embracing the Meatless Monday trend.
Growing cases of contaminated tap water at public schools around the country are raising more than eyebrows. Learn about whether or not public schools' tap water is safe to drink.