L.A. Schools Beef Up Security After Christmas Break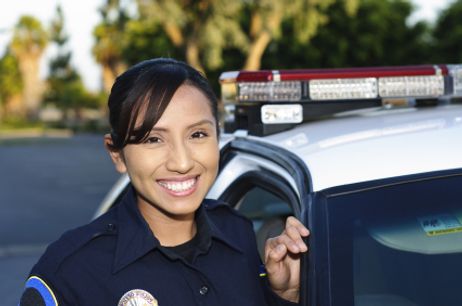 After the Connecticut tragedy, Los Angeles schools have decided to add more police patrols during the school day. However, the decision is not embraced by everyone.
As Los Angeles students headed back to school after Christmas break, a new sight greeted them – the presence of additional
police officers in schools
throughout the city. In response to the
Sandy Hook tragedy
in Connecticut, the
Los Angeles Unified School District
has beefed up patrols and police presence to ensure the safety of the students and faculty inside Los Angeles classrooms. While the decision has been a welcome addition by many, some are voicing concern about the presence of additional armed security inside school buildings.
The New Plan
NBC Los Angeles
reports that Los Angeles police are adding patrols to around 700 elementary and middle schools in the Los Angeles school district. In addition, Los Angeles police officers have been instructed to "adopt" a school, which means the officer will make regular beat checks to that school throughout his or her shift. The hope is that this new procedure will give schools throughout Los Angeles a larger police presence that will discourage those who might be thinking about committing violent acts against a school and the students inside.
"We won't be there all the time, but nobody will know when we will be there," Los Angeles Police Chief Charlie Beck told
CBS Local
. "I don't want anyone to think they can walk into a school in Los Angeles and be immune from the police. Cause you won't be," Beck added.
Beck made it clear to local media that the decision to add a police presence is not in response to any direct threats. Instead, the new policy is merely a preventative measure, which will hopefully deter potential problems and give parents, students and faculty peace of mind.
Police officers at the schools will do more than merely make their presence known to students and staff. A sergeant from the LAPD, Brian Gura, told CBS that the plan includes officers spending up to "30 minutes a day at these schools, meeting with school members, principals, possibly some of the other school staff, teachers, as well as some of the parents." The idea is for certain police officers to get to know a school and the staff, to provide more effective security for that school and address any potential concerns as soon as they arise.
The announcement of the new plan was made on December 17, just three days after the tragic shootings at Sandy Hook that left 26 dead, including 20 young students. Beck addressed the vulnerability of students inside a classroom at a press conference.
"A barrier has been broken in our culture, and that barrier is the safety of our youngest residents," Beck stated at CBS. "It's all of our jobs to make sure that we resurrect that barrier and that our children are safe."
At this time, there is no prediction for how long the additional patrols will last. Officers performing the checks will not receive overtime pay, as checks are supposed to be performed during the regular shift of that officer. Cash-strapped schools in Los Angeles are not currently in a position to provide – and pay for – additional security at this time. However, the LAPD also does not have additional funding to provide additional staffing to schools. Instead, the function may be taken on by detectives and administrative staff when there are not enough police officers to go around.
Staffing in Addition to Current Levels
Prior to the Sandy Hook shooting, the
Daily News
reports that members of the police force were already stationed at more than 100 high schools throughout the district. However, police would now be assigned to monitor K-8 schools as well. Some see a huge benefit in police officers developing positive relationships with school staff. Steve Zipperman, a retired captain for the LAPD who now oversees the police department for the school district, told the Daily News that police officers in schools can act as mentors as well as a security presence. Relationships with the school staff allow those officers to provide better protection and handle problems that arise more efficiently.
"Schools are the safest haven there is during the day," Zipperman told the Daily News. "We can provide proper security for everybody so teachers can teach, administrators can run schools and students can learn."
Opposition to Increased Police Presence
While many are in favor of increased police presence in light of the Sandy Hook tragedy, some have voice concern over the message it will send to students.
CBS Los Angeles
reports that some community rights activists recently held a rally to protest the increased police presence in Los Angeles schools. The organizer of the rally, Manuel Criollo, told CBS that more
armed guards
in schools will
make some students feel as though they are in a prison
, rather than a school.
"Putting more armed guards in schools creates a type of environment for young people that is unwelcoming and that makes them feel like prisoners in their own school," Criollo told CBS.
One of the students that attended the protest agreed with Criollo. The student told CBS, "Having police in our school is intimidating."
The organizers of the rally, which included members of the Community Rights Campaign, told media that schools should be looking for other ways to address school violence.
Despite protests, Los Angeles police are making their presence known in schools across the district in 2013. Although no one knows definitively whether additional police presence will lead to less violence, many parents afraid to send their children to school after the Sandy Hook tragedy are welcoming the additional security to keep their children safe away from home.
Being a teacher has never been easy but changes in federal funding and legislation have made it harder than ever for public school teachers. Keep reading to learn more.
Say goodbye to mystery meat - and all other types of meat - at public school cafeterias that are embracing the Meatless Monday trend.
Growing cases of contaminated tap water at public schools around the country are raising more than eyebrows. Learn about whether or not public schools' tap water is safe to drink.