Arming Public School Teachers with Guns: The Controversial Legislation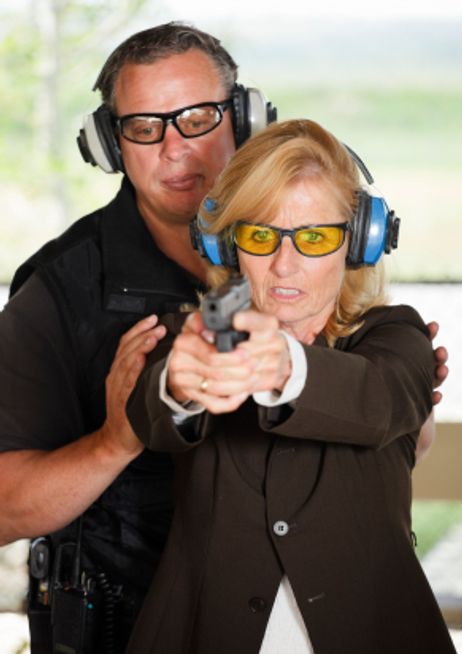 Should public school teachers carry guns to keep themselves and students safe? One school district already allows teachers to bring guns on campus, but the issue has triggered heated debate on both sides.
School shootings are tragic occurrences that have become far too common in our culture today by many standards. In light of some of the most recent events involving school shootings in Philadelphia, New Mexico, and Colorado, as well as the mass shooting at Sandy Hook Elementary School in December 2012, some state legislators are considering a new approach to the problem: licenses that allow educators to carry concealed
weapons onto campus
. The first known school district to institute such a policy was the Harrold Independent School District in Harrold, Texas, but numerous other districts have followed suit in recent years, with other districts considering the possibility rather seriously. We'll take a closer look at the issue of guns in school and some of the districts that are thinking about taking matters into their own hands.
Current Laws
Laws vary from state to state regarding the criteria for purchasing and carrying a gun. Some states do not require a permit to purchase a handgun or long gun, nor do some states require gun owners to register their firearms. And while some states require a permit to carry a concealed weapon, others require no such permit for concealed or open carry weapons. A number of states including Massachusetts, Arizona, Colorado, Maryland, New Jersey, and Connecticut have passed restrictive assault weapons laws in light of the use of such weapons in many of the most recent school shootings. However, even licensed gun holders are prohibited from bringing their guns onto school property in nearly every school district in the country. Unfortunately, that law hasn't stopped some students from bringing guns into their schools – often with tragic results.
One of the worst mass school shootings occurred at
Columbine High School
in Littleton, Colorado in 1999. Two Columbine students, Dylan Klebold and Eric Harris, went on a bloody rampage that left 12 classmates and a teacher dead before the pair turned their weapons on themselves. Another horrific school shooting occurred in 2007 on the campus of Virginia Tech University, when student Cho Seung-Hui killed 32 people before killing himself. More recently, Adam Lanza shot and killed 20 elementary schoolchildren and six adults at Sandy Hook Elementary School in Newtown, Connecticut before taking his own life. Dozens of other smaller-scale school shootings have occurred over the years, resulting in the injury or death of students, teachers and other school personnel.
This video from CNN discusses whether teachers should be armed.
Nebraska Legislator to Introduce Bill
In 2001, an
Omaha high school
senior killed a vice principal and wounded a principal in his school before committing suicide a few miles from the school's campus, according to the
Christian Science Monitor
. In light of this and other tragedies around the nation, a Nebraska state senator has introduced legislation that would allow Nebraska educators to bring concealed weapons into their schools.
State Senator Mark Christensen originally proposed the bill in 2011 but has since reintroduced the bill in January 2014 in the hopes that
armed school officials
would serve as a deterrent to students who are considering bringing weapons of their own into schools. Christensen told the Monitor, "If you have a kid come in to shoot a teacher…or other kids, it's best to have somebody that can take care of the situation." According to the
Omaha World-Herald
, Christensen believes that arming teachers is the best way to protect schools – especially those in rural areas where police have long response times.
According to the
Journal Star
, Nebraska allows those who are properly licensed to carry concealed weapons. However, guns are restricted in some locations, including schools. Christensen wants to change that law and allow teachers at public and private schools to carry concealed firearms after undergoing 24 hours of weapons training. Each
school board
would be able to make the decision for their own district, with a two-thirds vote in favor of the policy.
However, gun control advocates and some security experts do not believe that arming educators is the safest option. Ken Trump, a consultant with the National School Safety and Security Services firm in Cleveland, countered by saying, "The vast majority of teachers want to be armed with
textbooks
and computers…to teach in the classroom – not guns. [They] don't want that responsibility, that liability, and that's not their professional focus."
Daniel Vice, senior attorney at the Brady Center to Prevent Gun Violence, agrees. Vice told the Monitor, "It would be extremely dangerous to have teachers firing weapons in the classroom." He added that even some highly trained law enforcement officers often miss their mark when shooting, and the risk is increased for students finding a gun or a gun accidentally discharging when guns are brought into the school.
The debate in Nebraska regarding arming teachers with weapons is reflective of a larger national debate on the topic, as school districts struggle to find solutions to the ongoing school violence issue. The Sandy Hook shooting brought many of these debates to a head, with some advocating the need for teachers to be armed in order to protect themselves and their students, with others decrying the notion as being irresponsible and likely to lead to even more violence. According to
a report in the New York Times
, in the aftermath of Sandy Hook, 33 states proposed legislation to arm teachers, but only five actually signed bills into law.
Where Guns are Legal
In 2007, the Harrold Independent School District in Harrold, Texas became the first public school district to institute a formal
policy
that lets employees carry concealed guns as a deterrent against school shootings. To carry a firearm, employees must have a Texas license to carry a concealed handgun, be authorized by the district to carry and receive training in crisis management and hostile situations. Guns must be loaded with special bullets that shatter when they hit hard objects to reduce the risk of ricochet and collateral damage in schools. To date, no incidents with guns have been reported throughout the district
In the years since the Harrold policy was instituted, districts in numerous states have made similar moves. The
National Conference of State Legislatures
reports that since Sandy Hook, Alabama, Arkansas, Kansas, South Dakota, and Texas have passed legislation of varying forms that allows school district officials to carry concealed weapons on campus. The Texas law, called the
Protection of Texas Children Act
, is by far the most wide-reaching state legislation to date. The law essentially deputizes school officials to serve as "School Marshals," who, after obtaining proper weapons licenses, undergoing training and passing a mental health exam, can have a weapon in school.
According to a report in the
Washington Post
, 43 states and Washington D.C. prohibit anyone from carrying a gun onto the campus of a public school. However, with the legislation that was recently introduced in states across the nation, and the continued concern over school shootings by educators and parents, the issue of teachers carrying weapons in school will undoubtedly continue to be at the forefront of public education policy.
Questions? Contact us on Facebook. @publicschoolreview
Say goodbye to mystery meat - and all other types of meat - at public school cafeterias that are embracing the Meatless Monday trend.
Growing cases of contaminated tap water at public schools around the country are raising more than eyebrows. Learn about whether or not public schools' tap water is safe to drink.
Schools all over the country have closed their doors to slow the spread of COVID-19, forcing educators and parents to switch to online learning strategies. Read on to learn where to start with homeschooling and for helpful resources for learning at home.