Montgomery School District Adding Safety Features to School Buses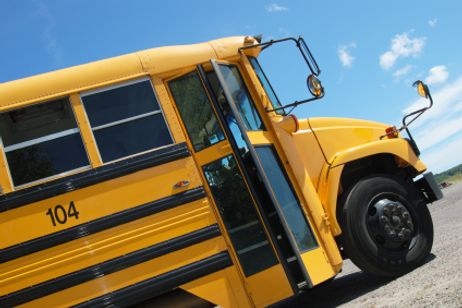 We report on new safety features coming to school buses in Montgomery County, in the wake of the shooting of a school bus driver and kidnapping of a student. Other school districts across the country are also looking at beefing up school bus security.
School bus safety
has been a concern for
Alabama
educators since the incident in
Dale County
left a bus driver dead and a young child held hostage for a number of days. Now,
Montgomery County
, one of the largest school districts in the country, is taking steps to make school buses safer by installing special security equipment in their vehicles. A new pilot program is allowing the county to test the equipment in a few of their buses for free, before investing in the security equipment for more of their fleet.
Four Buses Serve as Test Models
AL.com
reports that four Montgomery County school buses have been equipped with advanced security equipment as a part of a new pilot program. Bus Guard, a company based in Texas, has installed video equipment into the vehicles that allows it to track events inside the bus, as well as traffic outside. The primary purpose of the surveillance equipment is to identify motorists who illegally pass the bus so that citations may be issued.
Michael Cox, director of transportation for Montgomery Public Schools says loading and unloading pose the greatest danger to students riding the school bus. Cox explained, "We can't predict what the drivers of cars stopped near buses will do. Students have lost their lives around the state and the nation because a driver of another vehicle was in a hurry and disobeyed the law, passed a bus, and hit and killed a student."
Outside Cameras to Monitor Traffic Flow
The new security equipment includes outside cameras to monitor traffic flow around the school bus. The cameras can also capture images of cars that pass the bus illegally, when the lights are flashing and the stop sign is extended. Additional cameras collect information like the car's license plate number, so that citations may be sent to drivers guilty of infractions.
According to the
Montgomery Adviser
, the pilot buses have already caught a driver running a stop sign. However, during the pilot phase of the program, data collected is for informational purposes only. Citations are not being issued during this time period. However, if the pilot becomes a permanent security program, the school district would work with local authorities to come up with a system for viewing camera images and issuing citations.
Inside Security Features
In addition to the exterior cameras, additional features are included in the high-tech security systems to protect the interior of the bus as well. Cameras cover the entire interior of the bus, providing potential evidence for any types of altercations that might occur. Video surveillance is provided, as well as still photos.
The system also provides a panic button for the driver, in the event of an emergency and the inability to radio for help. This feature might have been helpful in the Dale County incident, where the driver was unable to radio for assistance. The new security technology includes a GPS that tracks the location, speed and direction of every bus on the road as well.
Lawmakers to Consider Alabama School Bus Safety Act
The pilot program has been in effect since last fall. Now, the state legislature is considering a bill that would allow images from the school bus surveillance equipment to be used to legally issue citations to drivers. The bill would permit the school bus cameras to serve the same purpose as red light cameras currently offer at intersections around the state. If it passes, a portion of the fine would be sent to the school system, to help pay for the surveillance equipment.
The additional funding would be helpful to cash-strapped Montgomery County, ensuring the district could add security to more school buses without spending any of the district's own cash on the project. However, Montgomery Public Schools Superintendent Barbara W. Thompson said that even if the bill doesn't pass, she still wants to see this security equipment on every bus in Montgomery County eventually.
"Our transportation system has an excellent safety record," Thompson told AL.com. "Our drivers and mechanics work very hard to ensure children are safe as they ride our buses. The issue is the traffic around the bus. This new system add extra tools for our work to keep students safe."
Other School Districts Using School Bus Security
Montgomery Public Schools isn't the only district considering additional security measures for school buses. According to
USA Today
,
Georgia
parents began clamoring for better
school bus safety
a number of years ago, when a driver passed a bus and killed a kindergarten student. That was in 2009 and by 2011, a law was passed that allows officers to use video surveillance when investigating an accident involving a school bus.
In
Cobb County
, cameras have been installed on more than 100 school buses. The surveillance equipment on these buses was manufactured and is maintained by Arizona-based American Traffic Solutions. Since the cameras were installed last fall, more than 2,000 citations have been issued.
Falls Church, Virginia
, recently voted to allow the use of school bus cameras, becoming the first community in the state to do so. Iowa is also considering allowing for the use of school bus cameras, while
Stratford Public Schools
is one of about a dozen districts in the state of
Connecticut
to use school bus cameras currently.
Keeping children safe is a top concern for public schools, whether the students are on school property or being transported to and from their schools. With security equipment now available on some school buses, the ride to school may have just become a little safer.
Being a teacher has never been easy but changes in federal funding and legislation have made it harder than ever for public school teachers. Keep reading to learn more.
Say goodbye to mystery meat - and all other types of meat - at public school cafeterias that are embracing the Meatless Monday trend.
Growing cases of contaminated tap water at public schools around the country are raising more than eyebrows. Learn about whether or not public schools' tap water is safe to drink.