Fairfax Educators Say No to More Guns in Schools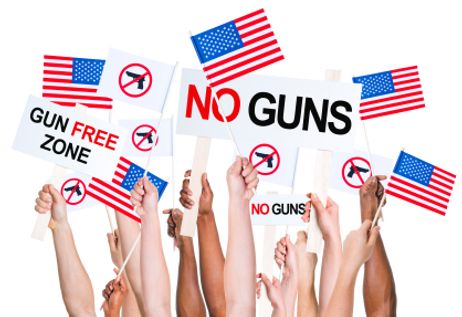 We look at a recent survey of educators in Fairfax County that show teachers believe new security measures are needed, but more guns are not necessarily the answer.
School security has been a high priority topic in schools nationwide, since the
Sandy Hook tragedy
in Connecticut took the lives of 26, including 20 young children. In
Fairfax County
, one of the largest counties in Virginia and the U.S., the majority of teachers say that more guns in schools are not the answer. Instead, Fairfax educators are urging administrators in the district to take another look at current security procedures to see where improvements can be made.
Fairfax Teachers Survey Results
NBC Washington
reports that the majority of Fairfax teachers do not support the idea of more guns in school, according to a recent survey. The survey found that 59 percent of Fairfax educators said they do not want guns in the school environment. Only five percent of teachers surveyed said they would support the idea of
allowing teachers and staff to carry guns into public schools
.
At the same time, most teachers in the county – 65 percent - would support
armed police officers in the schools
, if school budgets could accommodate that addition. Thirty-seven percent said they would support the addition of unarmed security guards to schools across the county. Currently, many high schools and a few middle schools within the county do have armed police officers at school during regular class hours.
The recent survey was conducted by the Fairfax County Federation of Teachers, which represents around 4,200 Fairfax teachers, according to
WTOP
. The union surveyed 483 people to compose their data. Teachers that participated in the survey were also asked about current security procedures, and whether they thought those procedures were sufficient in preventing another school tragedy in the future. Forty-five percent responded that they believed security measures in some schools were sufficient, but that was not true for all schools within the county.
Some of the teachers posted comments to the security questions. One wrote, "Anyone with the intent of doing harm in a school can find a way into the school. There is no perfectly protected school." Another teacher commented, "We need to look at what is causing this escalation of gun violence in our nation, instead of reacting to individual horrible events."
Concerns Expressed over Gun Considerations
According to the
Vienna Patch
, teachers also expressed concern over Virginia Governor Bob McDonnell's apparent interest in bringing more guns into schools. The Patch reports that McDonnell responded to the NRA's call to add armed guards at schools across the country. McDonnell was quoted as saying the issue should be discussed.
"If people were armed, not just a police officer, but other officials who were trained and chose to have a weapon, certainly there would have been an opportunity to stop aggressors from coming into a school," McDonnell said.
In response to McDonnell's comments, officials from associations of school principals and superintendents released a statement, stating other options should be explored. Many
school board
members for Fairfax County also stated that they did not think teachers should be armed inside the schools. Instead, many concerned about school security are urging for greater scrutiny of current security measures, to see where improvements can be made.
Safety Reassessments Needed
The
Fairfax City Patch
also reports that educators in the county have offered their input on the current state of security measures in Fairfax schools, and where those measures could be improved. According to the same survey by the
teachers union
, 60 percent of teachers said that visitor control procedures offered one of the largest threats to school safety. Inconsistencies were present from school to school, which left many Fairfax schools vulnerable to a possible attack.
"Anyone can walk in and do whatever they want," one teacher wrote on the survey. "That's the scary part."
Currently, Fairfax schools have policies about keeping doors locked and requiring visitors to sign in when they enter the building. An electronic system allows school staff to identify a visitor before allowing him into the building. Visitors must then proceed to the school office, where they are asked to sign in before they are allowed further access to the school.
However, the system does not always work as intended. Some schools are lax about locking external doors. Those that do often have students or teachers that let in knocking visitors, without identifying them first. As a result, visitors may gain access to the entire school building before they are properly screened and identified. Elementary schools tend to follow the rules most consistently, while high schools tend to be the least secure, according to some of the teachers that participated in the survey.
"FCPS has good rules for safety, but I don't believe everyone follows them," another teacher commented.
Other procedures teachers suggested taking another look at included:
Staff training for emergency situations
Conducting drills for emergency situations
Review of security and crisis plans
Classroom guides for emergencies
Crisis management teams within the schools
Teachers also voice concern over broken or missing locks on classroom doors, as well as some classrooms that had no door whatsoever. Many of the open school plans consist of classrooms without a means of securing students inside if the situation ever became necessary.
As school district across the country begin to reassess the viability of their security procedures, Fairfax County may serve as an example for smaller districts nationwide. Every school and district is sure to be taking another look at security and prevention procedures to keep students, faculty and staff as safe and secure as possible throughout the school day.
Being a teacher has never been easy but changes in federal funding and legislation have made it harder than ever for public school teachers. Keep reading to learn more.
Say goodbye to mystery meat - and all other types of meat - at public school cafeterias that are embracing the Meatless Monday trend.
Growing cases of contaminated tap water at public schools around the country are raising more than eyebrows. Learn about whether or not public schools' tap water is safe to drink.