Closing the Achievement Gap: What Some Public Schools are Doing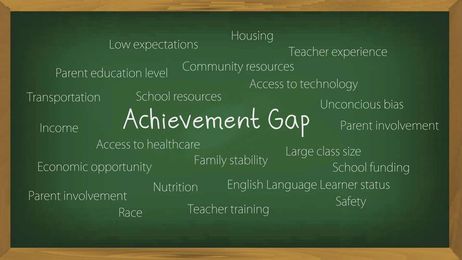 The glaring disparity between the under and over achievers is still prevalent at many public schools, but some districts are taking the matter into their own hands with innovative ideas. Learn more about the solutions that are helping to close the achievement gap.
Despite the fact that public education is still free and available to all the children within a given district, there are still serious disparities in achievement between the
students from wealthy families and those from low-income families
. Because education is a crucial factor in overcoming poverty and raising an individual's quality of life overall, it is important to overcome those disparities to bring students from
lower-income backgrounds
every educational advantage. Some schools across the country are making it a priority to close the achievement gap, so students from all income levels and backgrounds can enjoy the same opportunities.
Columbia Public Schools Offer a Multi-Prong Solution
Columbia Public Schools in Missouri are taking a whole new approach to closing the achievement gap by addressing the problem at many different levels. According to a report at the Columbia Daily Tribune, the district is done pointing fingers at parents, teachers, community members and students. Instead, they are going to focus on bringing all these groups together to provide the best possible educational experience to all of the students in their area.
Steve Calloway, president of the Minority Men's Network, told a group of parents and educators that it was time to take matters into their own hands. Calloway told the Tribune, "We really want our community to be a shining example of how to close the achievement gap." However, Calloway cautioned that the change would not happen overnight. The solution must be completed in phases that began with the acknowledgement and awareness of the problem.
Districts and Community Work Together
Calloway also stressed the importance of getting the district onboard with their plans. He told the
Columbia Missourian
, "We're going to hold the district's feet to the fire. This has got to be no excuses and no blame."
The second phase involves the implementation of a multi-prong solution that includes work groups created to focus on specific issues that lead to the achievement gap, including early childhood education,
transportation
and mobility and economic development. Other areas of concentration would include health care and nutrition, housing and parent-community involvement.
Getting parents involved in their children's schools
is often easier said than done. Many of the parents of the at-risk children did not have good experiences in public schools themselves and they are hesitant to volunteer for programs in their children's classrooms. One of the ways Columbia is helping parents to overcome their apprehension over involvement is to bring programs into their communities, where teachers can relate to parents on the parents' home turf.
Calloway has the blessings of Columbia Schools Superintendent Chris Belcher as well. Belcher made closing the achievement gap his first priority when he came to Columbia two years ago, although he likened the job to "changing the tire of a moving car." However, Belcher said it is not a battle that can afford to be lost.
"This isn't just a school issue," Belcher told the Missourian. "The fewer people who graduate from our schools, the more dropouts we have in our community and the more poverty perpetuates. Because we know if you drop out of high school, your job status is pretty much set that you're not going to make a lot of money. And you'll have kids. And here we go again."
Calloway has also said that the failure of many minority and low income students in schools is a "pipeline to prison," which society will eventually pay for.
Minnesota Employing Specialists to Close the Gap
Public schools in Minnesota are also finding it challenging to close the achievement gap – so they are brining in integration specialists to facilitate the process. According to the Northlands News Center, these professionals work one-on-one with students and parents from the time the student enters first grade until he graduates from high school. Integration specialists may work with some students multiple times a week and others once or twice a month. They talk to parents about the importance of attendance and help them teach their students
good study habits
. During the most recent academic year, 520 students were eligible for assistance from the 11 integration specialists currently on staff with the school district.
Although the program is still a relatively new one, school officials are optimistic that their integration specialists will make a positive impact on many low-income students. Ron Hagland, coordinator of the Education Equity Office, told the News Center that some of the positive changes include "improved grades from last year's first term to this year's first term, a decrease in absenteeism and tardiness for many of the children, and a very upbeat mindset by the parents who have gotten involved."
The integration specialists are not the only tool in Minnesota's arsenal to defeat the achievement gap once and for all. The district is implementing and experimenting with a host of other programs, including all-day
kindergarten
and literacy coaches to ensure students get off on the right foot during their academic careers.
There is no doubt that closing the achievement gap in public schools today should be a high priority for school districts, parents and the community at large. While there are no simple solutions to the problem, it truly is a battle that cannot afford to be lost. Fortunately, innovative school districts around the country are gathering the courage and resources to face the issue head-on, providing ideas and inspiration for other schools with a high number of at-risk students to follow suit.
While students are enjoying time off this summer, school district officials across the country are grappling with the issues associated with Common Core Standards, as well as plenty of opposition from parents and teachers.
As more schools return to in-person learning, teachers and parents find themselves dealing with the trauma and stress created by the pandemic.
After more than a year of remote learning, schools are finally returning to in-person instruction but how has the pandemic changed the face of public education and what will it look like moving forward?