One-of-a-Kind School in Detroit Prepares Students for Life of Flight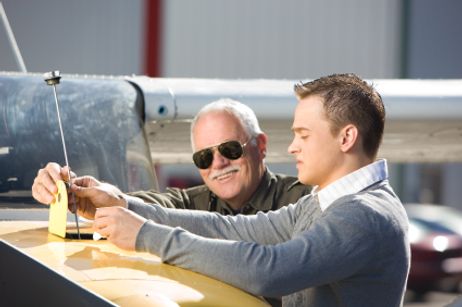 We report on a unique school in Detroit that prepares students to become licensed pilots even while they are earning their high school diploma.
A recent Opens Doors Day by
Detroit Public Schools
gave parents and students the chance to catch a glimpse of the wide range of schools available in one of the largest school districts in the country. Among other possibilities, this tour featured a unique school to Michigan and one of the only schools of its kind in the U.S. Who would have suspected that a district-wide open house could cumulate into a tour of the city by air – in a private plane used at a high school that prepares students for a career in the aerospace industry?
Future Students in Flight
According to a report at
mLive
, students who recently visited
Davis Aerospace Technical High School
as part of their tour of Detroit Public Schools got a welcome surprise. One of the instructors at the school, who also happens to be a pilot, took students and their parents on free airplane rides using one of the small private planes kept at the school for training purposes. The four-seat aircraft was the smallest many of the guests had ever flown in, and the tour of Downtown Detroit from miles above the ground could only be described as "breathtaking."
Flights took off from a small runway adjacent to the Davis Aerospace Technical High School campus. The pilot of the flights, Captain Miller, is an instructor at Davis, and a veteran of the U.S. Air Forces with more than 35 years of flying experience. Captain Miller is a high school teacher who has an airplane hangar as his classroom and spends many of his instructional hours in the air, rather than grounded in a class.
Opportunities at Davis
While some students that attend the high school are training for their pilot's license under the instruction of Captain Miller, others are choosing a different path within the aviation industry. The school also provides
vocational training
in airline mechanics, as students and instructors at the school are responsible for maintaining the aircraft used by the school for instruction. Davis provides a full curriculum certified by the Federal Aviation Administration, which includes instruction on aviation airframe, welding and aircraft assembly, airplane mechanics and computer-aided drafting. Flight training is just one piece of the massive puzzle.
Students that are interested in flight training must perform well in their foundational mechanics courses taken during the first two years at the school. Students that make the grade will be admitted into the flight training program during their junior year. The flight-training class currently has room for 25 students each year. However, only 5 or 6 students in the program typically finish with a flying certification. The rest of the students who wish to continue their flight training to completion may do so at Lansing Community College or Western Michigan University nearby.
Davis employs regular hands-on training to equip students for employment opportunities beyond high school. In addition, the school offers a wide range of extracurricular activities to keep students busy after school hours. There is also an Air Force Junior ROTC program available at the school designed to nurture important character traits like personal responsibility, leadership, value of citizenship and service to country.
Not Just for Aviation
The website for Davis emphasizes that students attending the high school do not merely focus on aviation training. The school also offers a rigorous academic core curriculum that includes studies in
mathematics
, language arts, social studies and foreign languages. The principal of the school, Nina Graves-Hicks, tells parents and students in her letter on the website that Davis recognizes all students that attend Davis will not be destined for a career in aviation. The school is also dedicated to preparing students for success in other fields as well.
Some of the students that graduate from Davis will move straight into employment in the aviation industry. Others will head to college to pursue more training and a degree that will help them advance in their chosen professions. The school has been recognized by a number of national organization for their commitment to excellence, appearing on the list of Good Schools Making the Grade and "One of America's Best High Schools" by
U.S. News
.
History of Davis
Davis Aerospace Technical High School began as the Aero Mechanics High School in Detroit in 1943. Even in its earliest years, the high school was dedicated to training up a future workforce in the area of aircraft mechanics. In 1982, the school changed its name to the Benjamin O. Davis, Jr. Vocational Technical Center, in honor of Lieutenant Benjamin Davis, a Tuskegee airman who was the first African-American general in the U.S. Air Force.
In 1986, the school added flight training to its aviation mechanics program. The name also changed one last time during that year, to become the Benjamin O. Davis Jr. Aerospace Technical High School. Today, it is primarily referred to as the Davis Aerospace Technical High School.
Currently, Davis Aerospace Technical High School is located on Erwin Street in Detroit. However, the current location will be closing at the end of this school year, as part of a consolidation effort by DPS, according to
mLive
. Next year, the school is slated to meet at the
Golightly Career and Technical
Building. It will continue to operate as a small, independent high school as it shares space with Golightly classes. Students will take shuttles to the old school hangar at City Airport for hands-on instruction and flight training.
Being a teacher has never been easy but changes in federal funding and legislation have made it harder than ever for public school teachers. Keep reading to learn more.
Say goodbye to mystery meat - and all other types of meat - at public school cafeterias that are embracing the Meatless Monday trend.
Growing cases of contaminated tap water at public schools around the country are raising more than eyebrows. Learn about whether or not public schools' tap water is safe to drink.