As the economy continues to struggle, some segments of society are still feeling the financial pain. Public schools across the country are still dealing with budget cuts that have forced them to make difficult decisions in recent years. When pressure from performance-based assessments is added to the mix, finding funding to teach kids to the standards becomes an even bigger challenge. Then, throw in the very real 21st century need to bring more technology into classrooms – a need that doesn't come cheap. How are America's public schools coping with these changes?
Public Schools and Recessionary Funding
Public schools are funded through an array of measures, including local property taxes, state funds, and federal funds. However, as Intercultural Development Research Association explains, the majority of school funding is derived from local property taxes and state funds. The state funds for schools come from sources such as gas taxes, franchise taxes, and other additional taxes.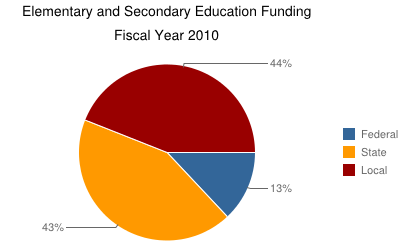 Source: National Center for Education Statistics
When a recession occurs, schools are hit by a loss from all three of these funding sources. For example, in areas with a high property tax, schools are generally provided with more funding; conversely, low property taxes usually result in schools with less funding. As many Americans report job loss and subsequent home loss, however, the amount of money taken in from property taxes is gradually decreasing. If individuals are not buying and maintaining the ownership to their homes, the state and local government cannot take in revenue from the regularly paid property taxes.
How Schools Cope with an Economic Downturn
With a loss of funds, schools are forced to cut specific school perks and programs. The decisions regarding the allocation of funds is not within the realm of an administrator, but rather, policy makers, school board leaders, and other county / district officials. Without those working directly in the schools getting a say in where the money is spent, funding doesn't always go to the areas of education that need the funding most.
In cases of decreased revenue, schools are hit hard in an array of focus areas. For example, when schools have less money, they tend to eliminate or severely decrease funding for elective courses in order to focus on the academic and core classes. As students are forced to take standardized tests in math, English, and other core classes, school leaders tend to protect these subject areas more intensely than optional courses, such as art, music, and physical education.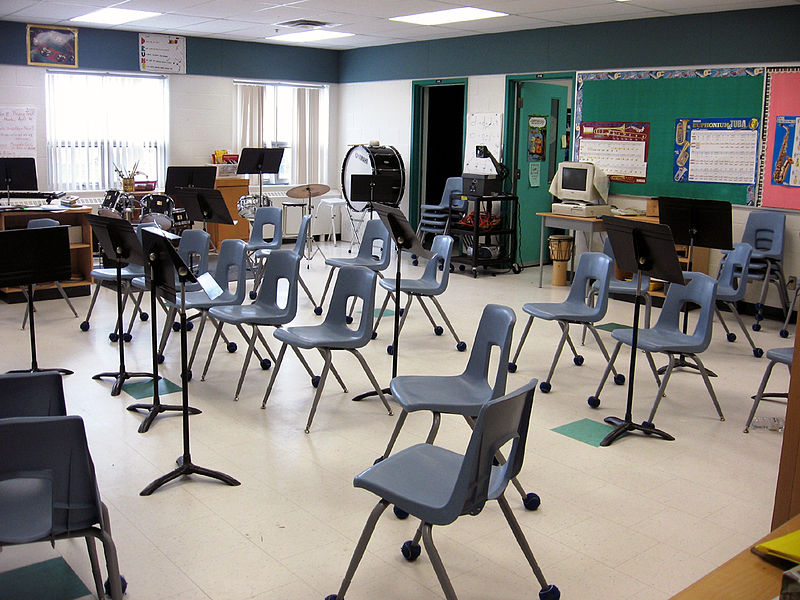 Photo by ChinaFlag (Own work) [Public domain], via Wikimedia Commons
There are also other cuts made within public schools when funding turns south. Some schools are forced to eliminate teacher jobs. This tends to lead to an increase in class sizes, as a smaller number of teachers must teach a rising number of students. Studies have shown larger classroom sizes prove detrimental to students, particularly minority students, those from low-income families and male students.
Teacher-Student Ratios
Student-teacher ratios have continued to be one of the largest concerns The three states that have seen the largest number of students enrolled for every teacher include California (25.6), Utah (21.9) and Oregon (20.2). These number come from the 2012 report put together by the National Education Association. As these states grapple with their student-teacher ratios, all three have managed the problem in different ways:
The Sacramento Bee reports that distressing ratios in California schools are largely going unheeded. With deep budget cuts facing districts across the state, many have had to ignore the 20-student target in classrooms. Instead, schools are doing their best to educate all the students in their district with the meagre funding available.
The good news is that public schools may be in for a significant funding increase over the next four years, according to the latest budget numbers from Governor Jerry Brown. The governor has proposed easing class sizes down to a 24:1 ratio over those next few years. However, the 20-student target is still not a reality in this new budget proposal.
In 2012, Utah schools received $108 million to help reduce class sizes, according to a report at KSL. Following the additional funding was legislation designed to hold schools accountable by requiring regular reports on how funds are being used to reduce classroom sizes. Although schools reported an average reduction of three students per classroom in the initial phase of the extra funding, lawmakers want to ensure all the money is spent to reduce classroom sizes and not on other education expenses.
The Oregonian reports that Portland Public Schools is also addressing the overcrowding situation in their schools. The district announced plans to hire 30 more full-time teachers and 68 part-time positions last fall. The announcement followed the realization that the district would have approximately $16 million more in reserves than it had originally planned for. It was expected that the influx of teachers would lower kindergarten classroom sizes to 25 students or less. High school teachers would also benefit, lowering their overall student number each semester.
Impact on Low-Income Students
Loss of programs and larger classes are not the only issues schools are forced to face. In addition to these academic concerns, many schools are now unable to provide their low-income students with free and reduced lunch plans and support for basics that keep many families in low-income school districts afloat and able to get their children to school every day.
Recent decisions by Congress to cut the Supplemental Nutrition Assistance Program (SNAP) could mean even more children across the U.S. will no longer qualify for free lunches at school. Sadly, children who are unable to get enough to eat are also unable to learn. Arne Duncan, U.S. Education Secretary, was recently quoted in U.S. News and World Report as saying, "If we want to close the achievement gap in this country, then we need to close the nutrition gap."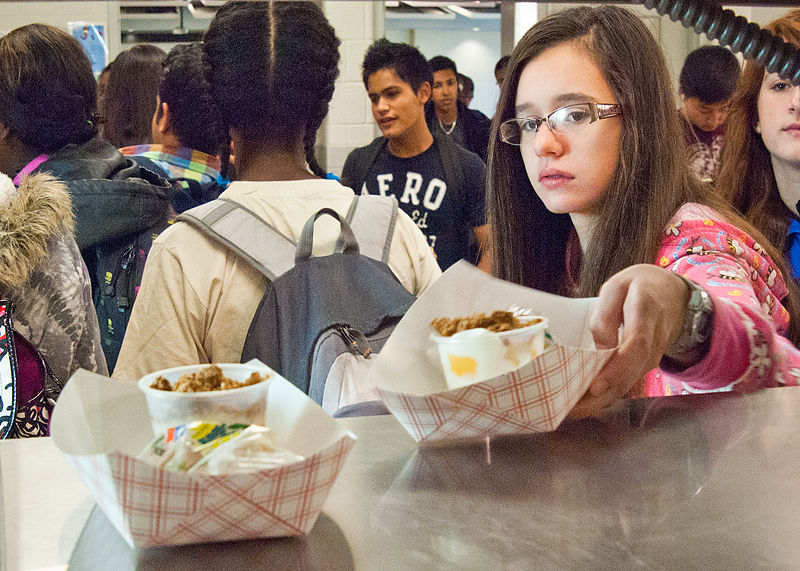 Photo By U.S. Department of Agriculture (20111025-FNS-RBN-School Lunch), via Wikimedia Commons
Lower Enrollment means Less Funding
While some schools are facing challenges caring for the students enrolled, other schools are struggling to figure out how to boost student enrollment. With job losses affecting specific areas, many states and cities are experience a case of "family flight," where parents are moving their children to different areas in the country in search of more stable jobs. In Michigan, one school reported a recent 35 percent decrease in student enrollment over the course of just seven years.
As students leave, schools simply have less money. In response, if teachers are laid off, they tend to move away as well. With this trickle-down effect, whole areas (and even whole states) are experiencing greater difficulty recovering from the recent funding struggles.
Moving Forward
While schools certainly face serious challenges with the funding decrease in recent months, some school leaders are focusing on a more optimistic future. As economies stabilize slowly but surely across the country, schools may finally see a bit of financial relief to benefit students and teachers in the years ahead. Those that don't spend additional funding wisely will undoubtedly see pressure from school staff, parents and students to find ways to make the education process more productive and successful.
Questions? Contact us on Facebook @publicschoolreview.