How Should Public Schools Make Up for Snow Days?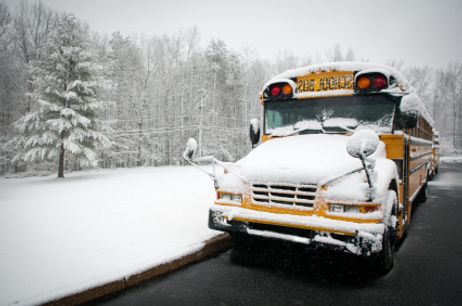 Amidst record-breaking snowfall, public schools have shut their doors for an unprecedented number of snow days. Learn about how public schools are planning to make up for the snow days, including extending school hours and even holding classes on Saturdays.
Amidst historical snowfall, school districts across America are struggling to decide how to make up the classroom time that has been lost to snowstorms.
Although many school districts have a built-in number of "inclement weather make-up days," the unexpectedly brutal snowstorms of the past few weeks have exceeded the pre-allocated snow days. Additionally, many school administrators are worried that the large number of missed days is needed to adequately prepare students for spring's impending
standardized tests
. In the coming weeks, school boards and school districts in various states will be meeting to consider how best to address this problem.
Proposed Solutions to Snow Days
The options that school districts have thus far proposed to make up the missed days include:
Adding Days to the End of the Year
Various school districts are planning to make up the missed days by extending the last day of school in June past its planned date. In
an
online poll of Des Moines, Iowa residents addressing the question of how to make up the unusually high number of snow days experienced this year, the fourth most popular option (out of six choices) was adding days to the end of the school year.
Lengthening the School Day
Alexandria, Virginia's superintendent has issued a letter to parents, recommending adding "significant time to each school day" in order to make up for the missed snow days, as the
Washington Post
reports. The school district is not required by law to make up for the missed time. However, the superintendent is nonetheless pushing to add minutes to each school day to make up the time because he and his staff believe the extra time will be of value to students.
In Des Moines, Iowa, lengthening the school day was the second most popular option in the district's online poll of parents and students. However, a spokeswoman for the district told the Des Moines Register that adding thirty minutes to the school day (the amount that the Iowa Department of Education has calculated to make up missed days) would cause conflicts with existing
bus
schedules.
Cancelling Planned Holidays
In Virginia, several school districts are planning on holding classes on Presidents' Day, which was originally scheduled as a school holiday, according to the
Washington Post
.
The Des Moines Public Schools
, meanwhile, found in its online poll that the most popular option for making up missed snow days was foregoing the school holiday that had been planned for the day after
parent-teacher conferences
week. Unfortunately, that option was subsequently found to be unavailable, as the parent-teacher conference holiday had already been counted as one of the 180 school days that state law mandates.
Other school districts are considering making spring break a day shorter to compensate for the unexpected "break" that the snow days have provided.
Holding School on Saturdays
Some school district officials have suggested holding classes on Saturdays to make up for the lost days. However, this option proved unpopular in the online poll conducted by
the Des Moines public schools
. According to the Des Moines Register, some religious groups have told the school district that Saturday is their day of worship, which would present an obstacle to the Saturday-school plan. Additionally, Saturday is the day on which standardized tests such as the ACT and SAT are held.
Standardized Testing Worries
Part of the pressure that districts are experiencing comes from standardized testing schedules. Adding days to the end of the school year is not a viable option for some school districts because students need the extra school days before their yearly standardized tests, which are usually scheduled in March or April.
Maryland's and Virginia's state departments of education have indicated that there can be some flexibility in when schools administer the
standardized tests
, the Washington Post reports. However, the
Advanced Placement (A.P.) tests
, which are administered on the same date at schools across the country, cannot be rescheduled.
Looking for Help from State Legislature
Some districts, meanwhile, are looking to their state departments of education and requesting that the minimum classroom days requirement be lifted in acknowledgment of this year's extremely disruptive weather. Pennsylvania's state education secretary will make these decisions on a case-by-case basis, according to Pennsylvania's
Valley News Dispatch
.
This winter has proven to be brutal not only in temperatures and snowfall, but in terms of the headaches school districts are facing. The solutions to missed school days this year will certainly set precedence for future winters.
Being a teacher has never been easy but changes in federal funding and legislation have made it harder than ever for public school teachers. Keep reading to learn more.
Say goodbye to mystery meat - and all other types of meat - at public school cafeterias that are embracing the Meatless Monday trend.
Growing cases of contaminated tap water at public schools around the country are raising more than eyebrows. Learn about whether or not public schools' tap water is safe to drink.