What is the School-to-Prison Pipeline?
In an era in which negative or violent behaviors at school – from bullying and harassment, racism and sexism, and school shootings – is commonplace, public schools have taken measures to beef up security in the name of protecting students and staff. Schools in urban areas have long been home to security guards and metal detectors, however, security measures in recent years at urban and rural schools alike have grown to include armed school resource officers (SRO), complex networks of surveillance cameras, and zero-tolerance discipline policies that have resulted in a substantial increase in the number of student suspensions, expulsions, and school-based arrests. In fact, the number of disciplinary actions taken in schools is at an
all-time high
.
This video from the ACLU shows their belief that children should be educated, not incarcerated. We are working to challenge policies and practices that contribute to the school to prison pipeline.
However, this is just one component of the modern-day school-to-prison pipeline, in which students are forced out of school by Draconian policies that land them in the criminal justice system.
This begs the question, "How did we get to this point?" The American Civil Liberties Union has identified
five primary factors
in the development of today's police-state schools that funnel children into courts and jails:
1. Lack of funding and resources: Many discipline problems arise when students are disengaged and do not have support services to help them persist in their educational pursuits. Lack of textbooks, inexperienced teachers, and non-existent counseling and special education services all contribute to delinquency and high dropout rates.
2. Alternative school environments: In some public school districts, children that have been disciplined are remanded to alternative schools, many of which are run by private, for-profit corporations that are not subject to state and federal education guidelines. As a result, when students are returned to the normal school environment, they find that they are completely unprepared to keep up. Even more shocking, in some districts, students that have been expelled or suspended have no right to any educational services whatsoever as per school district policy.
3. Zero-tolerance policies: Partly developed in response to the increasing number of violent incidents at schools in the 1990s, these policies have been implemented at all grade levels, including preschool. They establish automatic punishments for infractions regardless of the circumstances in which the offense occurred. In some cases, students have been suspended or expelled for violating school policies without actually posing a threat, such as a child who violated a weapons policy by having a pair of scissors in their backpack or a student who violated a drug policy by having over-the-counter allergy medication on her person. Compounding the problem is that these policies often ignore a student's right to due process after they have been accused of wrongdoing, particularly for children of color or those who have special needs.
4. Police in the schools: Schools have come to rely heavily on an armed police presence rather than school personnel to maintain order in classrooms and hallways. In fact, since 1997, the number of school resource officers has risen by 38%. Consequently, children who commit even slight offenses, such as causing a classroom disruption, are far more likely today to be arrested than they were just 10 or 15 years ago.
5. Juvenile court and detention: Students that have been removed from school due to zero-tolerance policies or school-based arrests often find themselves involved in court proceedings, or worse, juvenile detention, even for minor offenses. Once there, it is exceedingly difficult for a student to reverse the trend and re-enter school. Without education or a safe place to go during the day, many of these kids end up poor, without a job or involved in serious criminal activity.
Recent Examples of the School-to-Prison Pipeline
A 2013 event in Wake County, North Carolina
illustrates the impact of zero-tolerance policies and overzealous police action
. After a water balloon fight broke out as part of a senior-day prank, 24 armed police officers stormed Enloe High School to restore order. Eight students and one parent, all African-Americans, were arrested and charged with various crimes, from disorderly conduct to trespassing. Many students were either physically restrained by police or were threatened with being tazed.
In 2013, Kyle Thompson, an African-American student in Detroit, was
escorted off school grounds in handcuffs
and taken to the local police station after a teacher claimed he assaulted her. The teacher discovered a list of names Kyle had written in a notebook, which he had titled "Hit List," and called for help after engaging in a tug-of-war with the student over the paper. The list, which named the friends Kyle wanted to tackle on the football field, is not what got him in hot water – it was the exchange with his teacher. Although witnesses support Kyle's version of the events that he and the teacher were smiling and laughing as they tugged on the paper and that he never touched the teacher, charges of assault were nevertheless leveled against the teen. As part of the district's zero-tolerance policy, just the
accusation
of assault resulted in his immediate expulsion from school. Kyle was suspended for 180 days – an entire school year – and was forbidden from attending any school-related activities.
Sadly,
these kinds of events are commonplace
. Students in Meridian, Mississippi who commit minor classroom offenses are often arrested and hauled away in handcuffs. In Louisiana, some school resource officers have carte blanche authority to stop students, question them, detain them, frisk them, and arrest them both on and off school grounds. Instead of investing in after-school programs, teacher training, improved teacher salaries, classroom resources for students, or on-campus counseling services, districts are instead using their scant funds to hire police officers to patrol a place that is supposed to be a safe and engaging environment in which children can learn.
What these cases demonstrate is the problem of outsourcing disciplinary duties to local police. Rather than school administrators, teachers, school board members, and parents working together to ensure the safety of all students, schools have instead pressed the panic button to involve the authorities on minor matters that only a few years ago would have been handled with a visit to the principal's office. It is a criminalization of the classroom on an epic scale.
Who is in the Pipeline?
Although the school-to-prison pipeline impacts students of all ages, races, and cultural backgrounds, students of color and students with disabilities represent a vastly disproportionate percentage. Statistics from 2009
paint a bleak picture
of racial inequality in American public schools:
70% of students that are arrested at school or are referred to law enforcement are black or Latino.
40%of students expelled each year are black.
Black students are over three times more likely to be suspended than white students for the exact same infraction.
Looking more deeply at these numbers, one sees that they are consistent for districts large and small, rural and urban. In the nation's largest public school district, Los Angeles Unified, of all students who received out-of-school suspensions, 62% were Latino and 33% were black. Just 3% of suspended students were white. In New Orleans, the numbers are even more disturbing: 100% of schoolchildren expelled under zero-tolerance policies in 2009 were black. Additionally, 67% of school-based arrests involved a black student.
Children who have a disability are more than twice as likely to be suspended than a student without a disability.
Although disabled children represent just 12% of the student population, they account for 25% of law enforcement referrals and arrests.
Disabled children represent 75% of all students that are physically restrained and 58% of all students that are placed in seclusion, even though they comprise just 12% of the total student population.
Efforts to Address the Issue
As mentioned above, one of the primary components of the school-to-prison pipeline is a lack of resources, including inexperienced teachers. Those on the frontlines of education – from classroom teachers and paraprofessionals to bus drivers and food service workers – need much more training in delivering effective discipline. Rookie teachers, in particular, seem to lack the support necessary to develop classroom interventions that reduce negative behaviors and keep children in the classroom where they belong.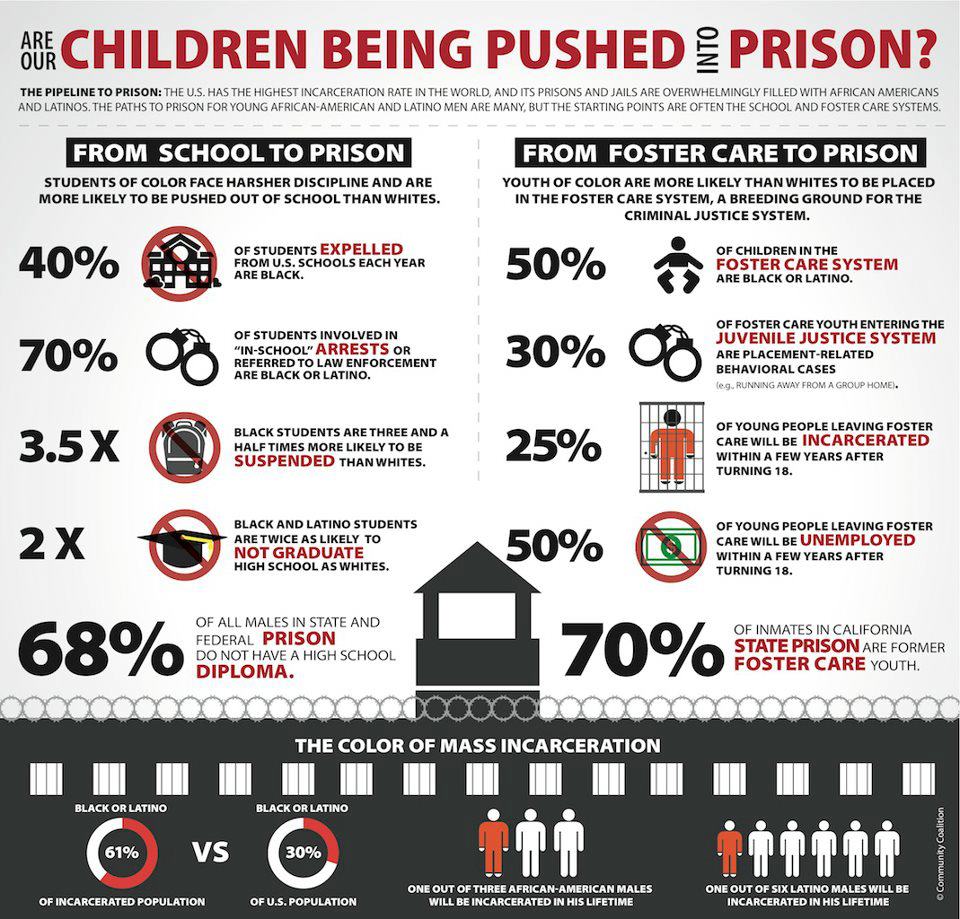 Graphic Credit:
SuspensionStories.com
Of any school employee, teachers know their students better than anyone, so it stands to reason that they should be best empowered to work towards positive solutions to classroom issues. However, this is easier said than done. In an era in which high-stakes testing is often tied to teacher evaluations, the sad truth is that some children, particularly those who are disabled or are otherwise on the low end of achievement, are removed from class for minor disruptions not because they pose any kind of physical threat, but because they may skew test results in a negative manner.
Many districts have turned to data analysis to shed light on disciplinary procedures. Parceling data based on race, gender, and ethnicity can reveal disparities in punishments and allow districts to take corrective measures. Additionally, some districts have developed agreements with school resource officers and local police forces to decrease the use of force and restraints on campus, as well as reduce the number of school-based arrests.
In the last decade, positive behavior interventions have come into vogue and represent a definite step in the right direction when it comes to discipline. Rather than using punitive measures to manage student behavior, positive behavior support systems focus on building prosocial skills. Doing so diminishes, and in many cases eliminates, negative behaviors without the need for suspension, expulsion, or other serious consequences.
Meta-analyses
of studies that examine the efficacy of positive behavior interventions show that there was a 90% reduction in negative behaviors in over half the studies. In more than one-quarter of the studies, negative behaviors were completely eliminated. By eliminating negative behaviors, children and teachers alike are more often engaged in academic activities, which in turn improves academic performance for all students.
However, most revisionary efforts have been aimed at zero-tolerance policies that unduly impact disadvantaged students, such as those who have a disability, are poor or are of color. In 2011, the U.S. Departments of Justice and Education issued a joint directive aimed at eliminating school policies that contribute to the school-to-prison pipeline. Entitled the
Supportive School Discipline Initiative
, the program takes direct aim at the oft unfair and overreaching zero-tolerance policies adopted by schools nationwide. Among the key recommendations of the initiative are to:
Build consensus among all stakeholders at the local, state, and federal level as to what constitutes appropriate disciplinary procedures.
Develop and implement research-based solutions to behavioral issues that support a positive school climate for all students.
Devise guidelines to ensure that discipline policies uphold, rather than violate, students' civil rights.
Promote awareness of policies that work to reduce negative behaviors among leaders in the field of education.
In a follow-up to these guidelines, the Departments of Justice and Education issued
updated recommendations in 2014
. This time, a greater emphasis was placed on providing adequate training for school personnel in classroom management and conflict resolution strategies, as well as devising ways for engaging students and parents in improving the school climate. Additionally, these new recommendations specifically remind school stakeholders to:
Understand that school personnel, not local police or school resource officers, are responsible for handling day-to-day discipline.
Clearly define the roles and responsibilities of school resource officers.
Assist school resource officers in developing rapport with students and parents by providing them opportunities for positive engagement with both groups.
Clearly, these updated guidelines demonstrate the Obama administration's desire for control of discipline to be returned to teachers and administrators. Along with the 2011 guidelines that sought to reduce the impact of zero-tolerance policies, these recommendations seem to be a step in the right direction in terms of slowing down the school-to-prison pipeline. However, as good as these recommendations are, they are non-binding. While districts have been warned that the Justice Department will take "strong action," against schools that violate students' rights, as of yet only a handful of lawsuits have been filed against schools whose disciplinary procedures continue to disproportionately impact specific groups of students.
This video discusses what type of security measures should be taken in schools to prevent future tragedies.
The Myth of Unsafe Schools
Research
conducted by the University of Virginia shows that, despite the perception that schools are unsafe, the number of school shootings and other violent in-school acts has decreased since the 1990s. In 1993, students committed 45 violent crimes per 1,000 students. By 2010, that number was six per 1,000 students. Especially for school-aged children in poverty-stricken and urban environments, school is the most secure place they can be.
Yet, zero-tolerance policies routinely remove kids from the safety of the school and throw them to the wolves. If left to their own devices while on suspension or expulsion, they can easily become involved in dangerous behaviors or become a victim of violence themselves. At the very least, children that are suspended or expelled immediately become less likely to graduate from high school, thus diminishing their ability to obtain adequate employment and move up the socioeconomic ladder. Ironically, minorities, poor children, and those with disabilities – the groups that most desperately need to be in a safe, stimulating learning environment – are the ones most often removed from school as a result of zero-tolerance policies.
It has been six decades since the Supreme Court ruled in Brown v. Board that segregation in public schools was unconstitutional. But modern policies intended to protect children at school have instead served to perpetuate segregation on a massive scale. It is too early to determine the efficacy of federal, state, and local efforts to shut down the school-to-prison pipeline and address issues that feed into it. But for the sake of millions of disabled students and students of color, let's hope the news in the coming years is good.
Questions? Contact us on Facebook. @publicschoolreview