Teacher Strike Forces Cancellation of Classes in Tacoma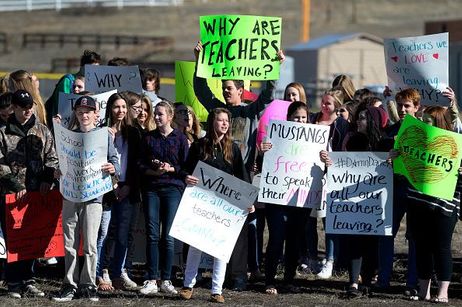 Stay updated on the latest on the teacher strike in Tacoma, including reasons for the strike, the court ruling and predictions on the outcome.
School districts across the country have been dealing with
smaller budgets
and fewer resources since the economy came to a grinding halt just a few short years ago. In most cases, this meant less to go around for teachers and administrators. In Tacoma, Washington, teachers have determined that the proposed cuts by the school district simply didn't "cut it" as far as they were concerned. To make their disapproval of the pending changes plainly known, the Tacoma teachers union called a strike, which is now into its second week of the brand new school year.
The Strike Unfolds
As the district grappled with a variety of issues before the start of this school year, some of the decisions that were made did not go over well with the teachers who work in Tacoma. There are three basic issues on the table: teacher pay cuts, increases to class sizes and the way the district wants to handle teacher transfers. At this time, all of these issues are still in discussion, and no agreement has been reached on any of them.
Currently, teachers who request transfers have their requests processed based solely on teacher seniority, according to the News Tribune. The district has proposed that future decisions entail not only seniority, but teacher evaluations and assessments as well. Adding the additional criteria ensures that the teachers who are most effective in the district will get first pick of teaching assignments. The union has argued that this process would be subjective and unfair to teachers who have worked in the district for many years to build their seniority status.
The pay cuts are another big point of contention between teachers and the district. While the union has not asked for any sort of pay increase for the upcoming school year, they are not in favor of cutting salaries by any amount. According to an article at
Washington Education Association's website
, neighboring school districts like Puyallup and University Place have not cut teachers' salaries, even though they are facing similar budget woes. If those districts continue to maintain higher salary ranges, Tacoma may lose some of their best teachers to the higher paying positions elsewhere.
These two sticking points are the primary reason the teachers union voted to strike before the beginning of the school year. The strike has forced the cancellation of classes in Tacoma for at least seven days, and despite a court order and potential legislation to make the strike illegal, there does not appear to be any sign of a compromise in the near future. At this point, teachers believe they have the First Amendment on their side, and vow to continue their protest until an agreement is reached or a clear law prohibiting strikes by public employees is defined.
Efforts to Stop the Strike Fall Short
Two days into the Tacoma teachers strike, a Washington judge ordered teachers back to work, stating a strike by public employees was illegal in the state of Washington. According to the
Miami Herald
, the order was announced on September 14 by Superior Court Judge Bryan Chuschcoff. Judge Chuschcoff agreed that arguments by the school district that the strike was harming Tacoma students was enough to end the strike until additional negotiations could be continued.
Judge Chuschcoff also told both sides that he wanted them back to the negotiation table as quickly as possible to settle the issues once and for all. Chuschcoff was reported saying in the Herald, "I want you to all talk, even if I have to put you in a phone booth."
Despite the judge's order, the strike continues. A report in the
Olympian
states that the Washington legislature has even looked at potential action to make teachers strikes illegal, but has not currently taken any steps to do so. Although proposals have been made in the past, there has never been enough support by state lawmakers to carry through with legislation.
The attorney general's office for the state of Washington maintains that strikes by public employees like teachers are already illegal. Sen. Tim Sheldon, a democratic state lawmaker from Mason County agrees with the office. Sheldon told the Olympian, "I've always felt that they are illegal. They certainly ought to be. In the past, I've worked on legislation to clarify that they are illegal – and also to prevent the teachers from taking sick days and being paid while they are out on strike."
Strike is Still On
While the courts and legislators debate the legality of the teachers strike, teachers continue to remain out of the classroom. The strike has now been in full swing for more than a week, and neither side looks any closer to an agreement. According to a recent report at KOMO News, the last negotiation meeting ended with district spokespeople walking out. Spokesman for the Tacoma School District, Dan Voelpel, told KOMO the situation was "extremely frustrating" and nowhere near an agreement at this time.
"We are ready to bargain if the union wants to bargain," Voelpel stated on the KOMO website. "If the union wants to stick to their positions and hold children of Tacoma hostage for what they want, we don't see any reason to talk."
"We're dedicated to negotiating a new collective bargaining agreement that focuses on what matters most: Our students," Tacoma Education Association vice president Adrienne Dale said on the Washington Education Association website. "Tacoma teachers want a contract that is fair, innovative and student-centered."
Being a teacher has never been easy but changes in federal funding and legislation have made it harder than ever for public school teachers. Keep reading to learn more.
Say goodbye to mystery meat - and all other types of meat - at public school cafeterias that are embracing the Meatless Monday trend.
Growing cases of contaminated tap water at public schools around the country are raising more than eyebrows. Learn about whether or not public schools' tap water is safe to drink.