When Teachers Cheat: The Standardized Test Controversies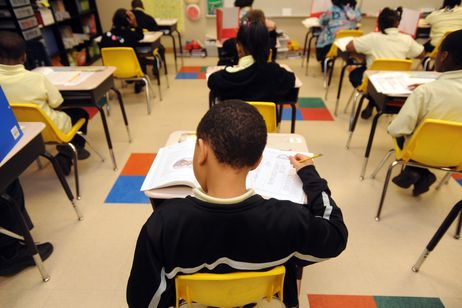 Teachers across the country are being accused of cheating on standardized tests, using erasers to conveniently change their students' answers. However, are these teachers driven to cheat because the funding system is flawed?
The value of
standardized test
results continues to mount, with state and federal lawmakers utilizing these test scores to give either rewards or punishments to school districts.
Many schools, particularly those in
low-income areas
that are already stretching resources too thin, are facing additional pressure to "teach to the tests" in order to ensure all of their much needed funding continues. The pressure has apparently led some teachers and administrators to "tweak" test scores so schools get a better performance rating.
Cheating in Atlanta?
According to a recent report in the Atlanta Journal-Constitution, as many as 109 teachers and administrators in Atlanta are being investigated for possible cheating on standardized tests. Suspicions began in December 2008, when the paper published an analysis that showed the academic gains in some Atlanta schools were simply too good to be true. When the tests were audited, an unusual number of erasures on tests were discovered, leading to the investigation into allegations of cheating on the tests.
If evidence is found that the educators did indeed change some test answers, they may face further scrutiny and sanctions. The investigative panel responsible for looking into this issue released a final report with the following findings about the employees suspected of cheating:
78 of the employees worked at just 12 schools.
25 employees at 13 different schools appear to have acted independently.
6 employees at the 33 remaining Atlanta Public Schools also acted independently, according to the investigation.
An article in the
New York Times
stated that a deeper investigation found no evidence of "any district-wide or centrally coordinated effort to manipulate" test scores. The report did not find fault with the superintendent of
Atlanta Public Schools
, Beverly Hall, or other top officials within the school system. However, pressure will now be place on Hall to take aggressive action against such behavior and ease the pressure placed on educators to produce top test scores that led to the possible cheating problem in the first place.
Hall told the New York Times that teachers and administrators suspected of cheating would be referred to the legal department for further investigation. Hall also stated that she had already improved testing procedures and would establish personalized study programs for students affected by the problem.
Atlanta is not the only city to deal with cheating issues on standardized tests. A number of other school districts also appear to be buckling under the pressure these new testing procedures cause, resulting in investigations into cheating allegations across the country.
Houston Test Scores: Too Good to be True?
When
test scores are tied to the career path of teachers
and administrators, as well as funding for the schools and individual bonuses for some teachers, cheating may be more likely to occur. That appears to be the case in this Houston school, where some math and science teachers stood to receive bonuses of nearly $3,000 if test scores were high enough.
The Phenomenon of Teachers Cheating Across America
The New York Times reported that recent investigations in Georgia, Indiana, Massachusetts, Nevada and Virginia also pointed to cheating by educators.
"Educators feel that their school's reputation, their livelihoods, their psychic meaning in life is at stake," Robert Shaeffer, public education director for FairTest, told the Times. "That ends up pushing more and more of them over the line." FairTest is a non-profit organization that is critical of standardized testing procedures.
However, others say that every industry boasts a few bad apples, and standardized testing is not to blame for this trend. It is true that the majority of school districts submit their standardized test scores every year, and only a few are brought under scrutiny due to cheating suspicions.
While the debate regarding standardized testing rages, school districts will continue to investigate and manage cheating teachers and administrators on an individual basis. As others see the results these scandals pose to both schools and the students who attend them, people may begin to further question the best ways to assess student and school performance - without the added pressure on schools to perform despite the educational challenges they might face.
Being a teacher has never been easy but changes in federal funding and legislation have made it harder than ever for public school teachers. Keep reading to learn more.
Say goodbye to mystery meat - and all other types of meat - at public school cafeterias that are embracing the Meatless Monday trend.
Growing cases of contaminated tap water at public schools around the country are raising more than eyebrows. Learn about whether or not public schools' tap water is safe to drink.