10 Tips for Saving Cash on Back to School Supplies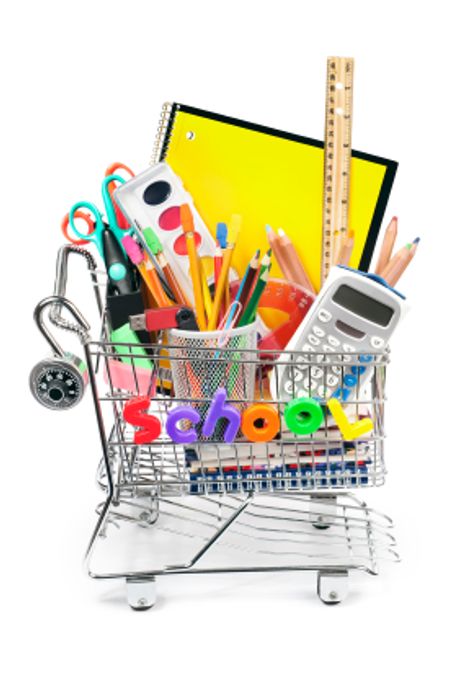 Stretch your back-to-school budget with these 10 smart tips that will save you money while you check off your school supplies list.
Back to school
time is right around the corner, and parents are beginning to wonder just
how much it will cost them
to send their precious children into their new classrooms fully equipped for the upcoming year. A recent survey by ICSC-Goldman Sachs found the average household will spend around $300 on
school supplies
this fall. While that number may seem like a hefty chunk of chain to cash-strapped parents, the good news is you can trim that budget with these 10 tips for saving big on school supplies.
Check Your Inventory
Before heading out to the stores with your supply list in hand, check your current inventory to see what you might already have in stock. Those leftover, unused pencils from last year, markers that still write like new, and extra folders and spiral notebooks quickly add up when you can shop for them for free from your own stash. Consider keeping all of last year's school supplies in a single bin to make it easy to see at a glance what you have and what you still need.
Start Early
School supply advertisements generally begin a month or two prior to the start of the school year, so keep your eyes open for the deals. By starting early, you have the luxury of shopping every sale as it hits, saving a bit on nearly every item on your list. The early bird shopper also enjoys the widest selection of supplies, in neat, orderly displays that are sure to look quite picked over just before the first day of school.
Comparison Shop
That box of crayons on your son's school supply list could cost you anywhere from a quarter to two dollars or more, depending on where you buy it. Fortunately, you don't have to do all the footwork on your own. Websites like
livingonthecheap.com
will do the comparison shopping for you, so you can quickly see where the best prices are hiding any given week. For larger ticket items, like laptops or school clothing deals,
pricegrabber.com
is another good online resource.
Scour the Sales
Weekly fliers are filled to the brim with school supply specials this time of year. However, there are also websites, like salelocator.com, that provide information on current sales in your area. Choose the category of sale you are looking for, and the website offers a map complete with all the nearby locations of relevant bargains.
Buy in Bulk
Families that have children with the similar school supply lists may find that bulk shopping is the way to go. One family must have a membership to a warehouse store, such as Costco, and that person makes the purchases for the group. Supplies can then be divvied up by the number of families participating, and the cost can be split as well. If you don't have a warehouse store nearby, websites like
discountschoolsupply.com
also offer bulk purchasing pricing and orders delivered right to your home.
Take Advantage of "Loss Leaders"
Yahoo Voices
explains "loss leaders" as "cheap promotional gimmicks to get you in the stores." The marketing idea behind these specials is that once you are there to take advantage of bargain basement items, you will purchase other, pricier items as well. You can find loss leaders on the front page of weekly fliers. Circle the super-cheap items, and when you are ready to make the rounds, grab all the big deals you can find. However, beware falling into the trap of purchasing additional items or you could wipe out the bulk of your savings.
Put the Kids in Charge
Many parents find the cost of school supplies adds up quickly when they take their kids along for the shopping adventure.
Fabulously Frugal
offered a suggestion to help parents cut costs – instead of purchasing the items yourself, give your child a set amount of money and let him shop for his own supplies. Tell him any leftover money is his to keep. You might be amazed at how frugal your own children become!
Use Coupons
Whether you shop at stores or online, coupons help you save a bundle on your purchase. Check out websites like
dealnews.com
for the latest in printable coupons and codes. Stores also tend to send out promotional coupons for key items this time of year, so keep an eye on your mailbox for those deals as well.
Get Gift Card Happy
Most parents don't think about using gift cards to purchase school supplies, but with an array of discounted cards available for purchase on websites like GiftcardRescue.com or PlasticJungle.com, you can save a bunch with this shopping method. The websites allow consumers to buy and sell gift cards, with discounts ranging from 3-30 percent and free shipping on purchases.
Plan Ahead for Next Year
After the school year is in full swing, discount stores like Wal-Mart and Target typically slash prices on remaining school supplies to get them off of the shelves and make room for holiday inventory. This is the time to grab deeply discounted pens, pencils, packages of notebook paper and spiral notebooks – items you know you will need the following year. Keep them in a bin until the next school year is about to begin, and you will already be ahead of the game on your upcoming school supply shopping.
School supply shopping may be a necessary evil for parents, but there are ways to make the process easier and cheaper. With these tips, you can send your kids back to school with a much smaller bite taken out of your pocketbook.
Being a teacher has never been easy but changes in federal funding and legislation have made it harder than ever for public school teachers. Keep reading to learn more.
Say goodbye to mystery meat - and all other types of meat - at public school cafeterias that are embracing the Meatless Monday trend.
Growing cases of contaminated tap water at public schools around the country are raising more than eyebrows. Learn about whether or not public schools' tap water is safe to drink.