How Much Will Back to School Cost for Your Child? More than Before!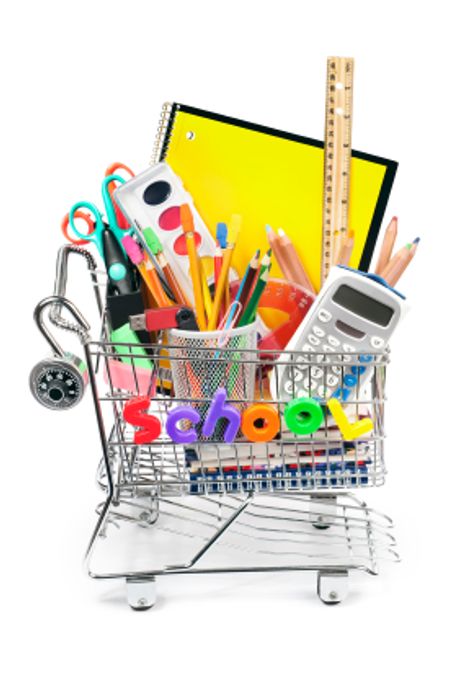 As parents get ready to send their kids back to school, we calculate just how far they will have to open their wallets to pay for the rising cost of public education today. Given that parents are paying for the PTA, extracurricular activities, field trips, and more, the answer is quite more than "free" public schools.
Whoever said, "There is no such thing as a free lunch," could have easily been referring to the state of public education today. In addition to the
rising cost of school lunches
, many other components of the so-called "free" education system in the United States are going up in price as well. As parents get ready to pack the children off for the world of academia in just a few short weeks, it is wise to weigh the cost of such an endeavor to hopefully avoid the sticker shock that many parents are faced with today.
BYOS (Bring Your Own Supplies)
Parents who grew up in school systems that provided supplies to students are often surprised by the long supply lists they are expected to fill before the school year begins. The New York Times reports that one Brooklyn mother spent more than $300 on supplies to equip her two first-graders for their year at Public School 130 last year. Included on the list were items like construction paper, crayons and markers.
However, this parent might have gotten off relatively easy for this school year, as other parents reported purchases of graphing calculators to the tune of $300 apiece, as well as other expensive equipment. Others cite lists that include basic necessities for the classroom, such as hand sanitizer, soap and paper towels. One parent even told the New York Times that rugs for the classroom turned up on one of her recent supply lists.
Tina Manis, a parent of a student at New Voices School of Academic and Creative Arts in Sunset Park, Brooklyn, told the New York Times that she spent more than $400 on school supplies to equip her sixth grader last year, calling the requirement "criminal." Manis stated to the New York Times, "This is public school. They didn't even have rulers or tape."
U.S. News and World Report explains
the need for supplies doesn't always end with the initial list either. The publication received numerous reports from parents about the need for expensive runs to the craft store whenever a new class project was announced. Students also require
technology to keep up with assignments
, in the form of their own personal laptops, notebooks or iPads. This need may begin as early as middle school and continues all the way through the college years today.
The Hefty Price of Hitting the Road
Field trips
are another expense throughout the school year that has increased significantly in recent years. Today, students must foot the bill for
bus service
to and from their location in many school districts, adding anywhere from $5 to $10 to every trip. In addition, the afternoon outing is often replaced with overnight trips that can cost parents well over $100 a trip.
Students in high school may even have the opportunity to embark on global journeys that take them overseas to exotic locations for learning experiences. These trips cost anywhere from $1,000 to $3,500, depending on the destination and the length of the stay, according to the
New York Times
. While these trips used to be reserved for very specific occasions, today long-distance field trips have become much more common, and many parents feel they have no choice but to foot the hefty bill.
The Cost of Extracurricular Activities
Another unexpected cost many parents encounter throughout the school year involves extracurricular activities. The days of free theatre productions, sporting events and clubs are long gone, thanks to dwindling budgets that offer no additional money for after school options. Today, parents are expected to foot the bill if their children want to broaden their horizons beyond the school hours,
paying for everything from sport uniforms
to sets and props for the school play.
One family who was footing the bill to nurture their daughter's interest in theatre was put in a difficult spot when their student decided she would like to try her hand at softball as well. The mother of the student, Tamara Krause, told U.S. News and World Report, "[My daughter] was also talking about wanting to get into softball, and we were like, 'Well, we don't know if we can afford the equipment if you want to continue to do drama.' It's getting ridiculous cost-wise, to continue to fund all these things through school."
Footing the Bill for the PTA
As schools are finding themselves with less disposable funding to invest in their students, many districts are turning to fund raising to bridge the gaps in the budget. Who is responsible for footing the fund raising bill? The parents of course, often through the parent-teacher organization known traditionally as the PTA.
The
New York Times
reports that PTAs are now helping their schools fund a wide range of extras, including:
Staff, such as teaching assistants, specials teachers and substitutes
Field trips, including overnight visits
New school features that enhance the learning experience
Enrichment courses for students
In some ways, the PTA has brought the public schools they serve to private school status in terms of the services and amenities they have allowed the schools to offer. However, some voice concern that this trend is
widening disparity between wealthy and poor schools
, since the funding comes directly from the pockets of parents. Schools that don't have the benefit of wealthy parents are missing out on many of the benefits offered at better endowed schools nearby.
The cost of educating children continues to rise, even as funding for schools continues to be problematic for states. As this trend continues, it appears parents will be called upon more and more to maintain the educational quality for their children through their own pocketbooks.
Being a teacher has never been easy but changes in federal funding and legislation have made it harder than ever for public school teachers. Keep reading to learn more.
Say goodbye to mystery meat - and all other types of meat - at public school cafeterias that are embracing the Meatless Monday trend.
Schools all over the country have closed their doors to slow the spread of COVID-19, forcing educators and parents to switch to online learning strategies. Read on to learn where to start with homeschooling and for helpful resources for learning at home.