10 Ways Parental Involvement Improves School Performance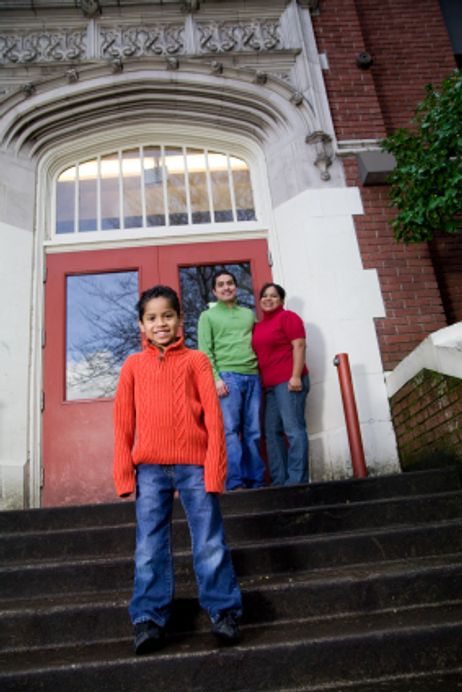 Do you wish your child's school performed better? Get involved! Learn about the many benefits to students, parents and schools when parents get involved in their children's education.
Parent volunteers have long played a vital role in public schools. From serving on the
PTA
to
planning the class party
, parents that give of their time, energy and talents are often responsible for making the public school system what it is for the students. However, few parents who immerse themselves in class volunteer projects realize the far-reaching benefits those few hours provide. Check out these 10 ways parental involvement improves school performance for the students and the schools themselves.
Positive Early Start
Parents are the first teachers which children have, according to a report in the Tahlequah Daily Press. This gives parents the unique opportunity to positively influence students before the first school bell ever rings. By tackling those early learning issues head-on, parents are also better prepared to get involved with their children's schooling once they head off to public schools.
"There is an obvious difference in children who have participated in activities from an early age," Susan VanZant, the principal at
Greenwood Elementary School
in Oklahoma, told the Daily Press. VanZant added that the advantages can continue if parents remain in contact with the teacher throughout their child's schooling.

"The teacher is always the first go-to person, especially with questions about curriculum," VanZant explained. Teachers can also be the best contact for questions about discipline, behavior and social issues unless another school employee is specifically appointed for this purpose. For example, Greenwood Elementary has a parent liaison that is specially trained to work with parents on these matters.
Higher Attendance Ratings
When parents are directly involved at school, attendance is likely to be higher. According to the Edmunds Sun, parents who volunteer in schools impart the importance of education to their children. This simple act helps to keep children in the classroom, especially during the high school years when regular attendance is critical to student success.
Improved Behavior and Social Skills
When parents and teachers partner together, it is much easier to address behavior issues in the early stages, before they become major obstacles in a child's education. Parents need to know what is going on inside the classroom, while teachers need help finding the strategies that work most effectively with individual children. Parents that are providing some sort of volunteer support, even if it is attending conferences and meetings on schedule, will be more in tune with potential conflicts in the early stages, when they can most effectively lend a hand.
Higher Critical Thinking Skills
According to an article in the Washington Times, the process of teaching critical thinking to students takes time and a teacher skilled in this type of instruction. With the emphasis on standardized testing today, many teachers have even less time to nurture these complex, but vital, skills in their students. When parents get involved in their children's schooling, by knowing the books they are reading and the
homework
projects they are working on, they can help cultivate those critical thinking skills in a way teachers are simply unable to do.
Better Homework Habits
Parents who are involved and knowledgeable in their children's studies are better equipped to teach their children the type of
study habits
they need to succeed all the way through their college years. Parents need to check children's homework nightly, ensuring assignments are complete and correct. When this process doesn't go as planned, parents should contact the child's teacher as soon as possible to determine what help the child might need or what is required to maintain grades and the learning curve.
Higher Test Scores
All News Wire reports on statistics from the National Coalition for Parent Involvement in Education that show when parents are involved in their children's education, both grades and test scores are higher. This is particularly true in the middle school and high school years when parental involvement tends to drop off.
Higher Retention Rates
Schools that boast a high rate of parental involvement also tend to have higher rates of retention and completion. This concept goes back to an earlier one, which states when parents demonstrate the importance of schooling through their own volunteer time, students tend to take their academic career more seriously as well.
Sharing of Opinions
When parents are involved in their children's school, they tend to
develop a relationship with their children's teachers
as well. In some cases, this relationship might extend to the administration also, providing a clear path for the sharing of ideas and opinions about the school. Although parents may not be well-versed in the area of education, they know their children, and that knowledge can be vital in the establishment of programs and curriculum that directly address their child's needs.
More Vibrant Schools
When parents are involved in schools, the entire environment of the school tends to be more vibrant. Parents have the ability to breathe life into schools, by reducing workloads for teachers and providing support where it is needed most.
Happier, More Productive Teachers
Finally, when parents shoulder some of the responsibilities in a school, teachers feel more supported and appreciated. This leads to teachers who are more content with their jobs and more productive in their work. Happier, more productive teachers tend to lead to happier, more productive students.
Parental involvement is an essential element to successful schools today. Whether parents serve on school committees, plan parties or meet regularly with teachers, their influence can be widely felt. Schools with involved parents have better academic performance, more successful students, and a happier, more productive staff all around.
Questions? Contact us on Twitter. @publicschoolreview
Being a teacher has never been easy but changes in federal funding and legislation have made it harder than ever for public school teachers. Keep reading to learn more.
Say goodbye to mystery meat - and all other types of meat - at public school cafeterias that are embracing the Meatless Monday trend.
Schools all over the country have closed their doors to slow the spread of COVID-19, forcing educators and parents to switch to online learning strategies. Read on to learn where to start with homeschooling and for helpful resources for learning at home.