Technology has become a mainstay in most of our society today, but it remains conspicuously absent in many primary and secondary classrooms across the country. To reach our tech-savvy students most effectively, we need to switch from our traditional methods of teaching and embrace technology, integrating it into our classroom and beyond. Some innovative educators are working to achieve this end by introducing
technology tools
that enhance their teaching and student learning. By combining personal classroom teaching with
online instruction
, teachers are using innovative methods to reach students who crave technology in learning. Through the innovative instruction of blended learning, some schools are working to expand course selection for students while cutting costs. We will explore the new and growing field of blended learning to ascertain how it works and discover the far-reaching benefits this classroom style might offer for students.
What is Blended Learning?
According to the
Detroit Free Press
, blended, hybrid, or flipped learning combines classroom interaction between teacher and students with online content and delivery systems for a robust and diverse teaching curriculum. Students conduct some of their class time with an instructor, while the rest is performed on a laptop from home. This mix of classroom and
Internet instruction
varies from program to program, but both elements must exist for it to be considered a true "blended learning" environment. While blended learning on the surface may look like a less personalized approach to the learning process, this system actually allows teachers to customize lessons to students' specific needs, interests, and learning styles, providing more focused attention and better communication between students and teachers inside and outside the classroom. Class lectures, discussions, assignments, textbooks, and supplemental materials are accessed online by students, and time in the classroom is dedicated to discussion and hands-on application of what was learned through the online forum. Parents can monitor their child's progress online through the school's grading system.
A blended learning school week will look different from school to school. In some cases, the students may spend three or four days taking online classes at home and one or two days in the classroom with an instructor. Because the teacher spends less time in the "brick and mortar" classroom, he has more time to work one-on-one with students and design instruction specific to the diversity of students. Instruction and learning has the potential to occur at all times of the day, so instructional time is not lost when school isn't in session due to instances of inclement weather.
Education Elements explains the specifics of blended learning, the particular models that can be employed, and the results schools have experienced.
Benefits of Blended Learning
Blended learning has the potential to offer a myriad of benefits to students, parents, educators and the public school system at large. The implementation of a blended learning program:
Allows expansion of course offerings, with more students able to take each course
Provides flexible scheduling for both students and teachers
Engages all students with an innovative and alternate program that embraces technology
Facilitates student learning at their own time, pace, and location
Incorporates both independent and collaborative learning
Offers a cost-effective solution for school districts
In addition, the
Detroit Free Press
reports that many students engaged in a blended learning environment may actually perform better at their studies due to its attention to individual students and flexibility. The report cited the success of the
Chicago Virtual Charter School
, who demonstrated significant gains on Adequate Yearly Progress in both reading and math in 2008 and 2009. The school serves a high percentage of poor students, but with the blended learning option, students were able to experience academic success and increased learning outcomes.
Innovation in New York
Another example of blended learning success is the iLearnNYC program, launched by The New York City Department of Education. The program is a part of New York's Innovation Zone, which was developed to personalize instruction that meets the specific learning needs of individual students and improve student achievement. According to the
NYC Department of Education
, 250 schools in the district have access to the diverse learning program that provides learning opportunities not currently offered in schools such as Advanced Placement, world languages, and credit recovery.
Hudson High School
of Learning Technologies has fully integrated the blended learning environment. Classroom content is entirely digital, and students enjoy a combination of classroom instruction with online coursework. According to a report from
AOL News
, every student at Hudson has a
laptop
so they may access curriculum and assignments online from home. The students have a face-to-face class a portion of the week and also meet online for every subject. Textbooks are all accessed online, as are student grades throughout the school year.
Racheal Rydell-Klages, a freshman at Hudson, stated the benefits of this type of learning. "Our online classes are a really good reinforcement of what we learn in face-to-face class. I think it's really good at preparing us for the future, because this is the age of technology."
The adjustment to blended learning, however, did not come easily for all the students. Hudson High School principal,, Nancy Amling, explained that while this generation is technology-savvy, they primarily use their technology for entertainment, rather than learning. Amling said, "The first few weeks kids were saying, 'I just want the teacher to stand in the front of the room and tell me what I need to know. They're coming into ninth grade; they've spent the eight years in the school system pretty much in that model."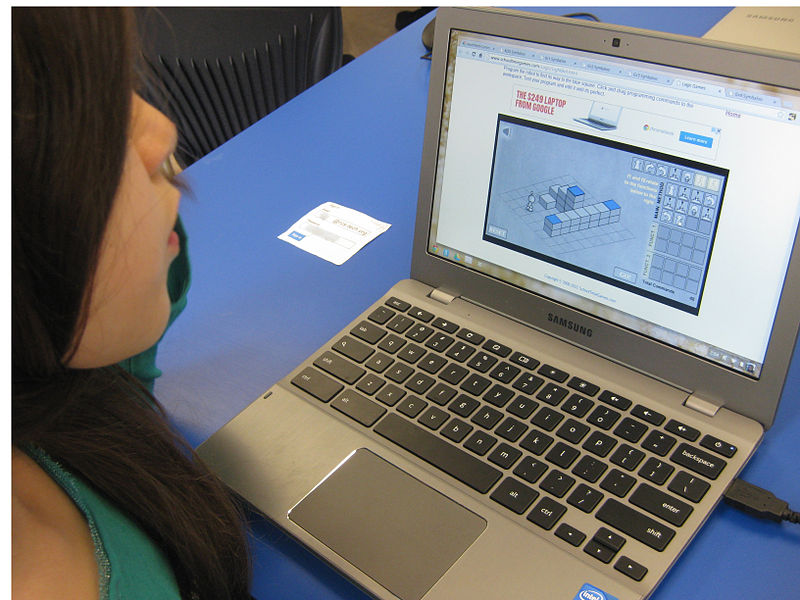 By Kevin Jarrett [CC-BY-2.0], via Wikimedia Commons
Potential Road Blocks of Blended Learning
Because blended learning has such a strong reliance on technology, forums used by teachers and students must be very easy to navigate. The technology also has to reliable to ensure the greatest outcome for students. Educators who make the transition to a blended approach must also be entirely committed to its success and well-trained in its implementation and planning. Though it can be a difficult transition for students and teachers alike due to the need for attention to detail and dedication, the benefits of a flipped classroom are far-reaching and offer a unique and innovative approach to learning.
Final Thoughts
The trend toward blended learning is a growing one across the country. According to a recent report at
Forbes
, roughly 45,000 K-12 students were taking an online course in 2000. By 2009, that number had increased to more than three million and continues to move upward. This method of education promises to transform the way American educates children, after centuries of the same traditional system. The way we offer instruction must address the diversity of our learners, and in a society laden with technology, it only follows that we should use that forum to better serve the educational needs of our students.