Blue Ribbon, Special Ed, and Vocational Schools: Choices for Every Student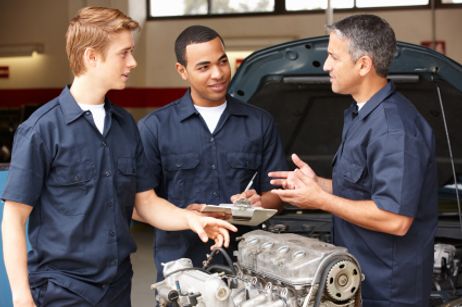 Public education does not need to be one-size-fits-all. With Blue Ribbon schools, vocational ones, and special ed support, there can be a right type of public school for every student.
When it comes to the education of our country's children, there are many choices today. Whether a child has
high academic potential
,
special needs
, or an eye on a career track, schools across the country are ready to answer the call. Take a look at three categories of schools that strive to serve a select segment of our student population today.
Blue Ribbon Schools
In 1982, the Blue Ribbon School program was established by Terry Bell, the Education Secretary at the time. The purpose of the program was to raise the public school system to a new level by recognizing
schools across the country that achieved high levels of performance
and improvement. Now dubbed the National Blue Ribbon School Program, the system continues to draw attention to outstanding elementary, middle, and high schools in both the public and private sectors.
In order to be eligible for Blue Ribbon status, the
Department of Education's
website states that schools must demonstrate one of the following:
Exemplary improving schools must also demonstrate a student population where at least 40 percent comes from disadvantaged backgrounds. Both public and private schools must follow similar performance criteria, but the nomination process is slightly different between the two. Public schools are nominated by a number of offices, including the Chief State School Officer, the Department of Defense Education Activity, and the Bureau of Indian Education. Private schools may be nominated for blue-ribbon status by the
Council for American Private Education
(PACE).
Blue Ribbon Schools serve as examples for the rest of the nation. Schools that are chosen each year are honored at a ceremony in Washington D.C. The names of the schools are also posted on the website for the Department of Education. The title is considered an honor for both public and private schools, and
schools that have been awarded the blue ribbon
can refer to their award throughout that year and afterward.
This video reports on the Blue Ribbon Schools for 2020.
Special Education
The trend today is to keep special education students in their neighborhood schools as often as possible, by providing the necessary services right in the classroom. Many public schools now offer a host of special education services, which can be accessed once a child is thoroughly assessed and labeled as a special needs child. At that point, parents and school personnel must work together to create an Independent Learning Plan (IEP) for the child that will accommodate all the additional help necessary to ensure the child succeeds in the classroom.
The IEP lists the educational goals of the child, as well as the necessary services to help the child achieve those goals, according to the
National Dissemination Center for Children with Disabilities
. Some services might include the adaption of the curriculum to meet a student's needs or provision of specialized instruction time to help the student keep up with the rest of the class. Related services might also be recommended to parents at the time the IEP is created, which are not typically provided during school hours. These might include occupational therapy if a child has lost some mobility through an injury or illness, and speech or language therapy as warranted.
Once the IEP is drafted, the school shoulders the responsibility of ensuring the plan is carried out completely. Parents receive regular assessments of their child's progress toward meeting the educational goals outlined in the plan. The IEP team also meets annually to assess the child's progress and make revisions to the plans as needed. Parents can also request more frequent meetings if they feel this step is warranted.
Guiding special education across the nation is the Individuals with Disabilities Education Act (IDEA), which is federal legislation that governs how special education students are handled in schools. The law states that students must be placed in the least restrictive environment that will meet their individual needs. It also states that special education students are held to the same behavior standards and disciplinary structure of the other students in the school, including
suspensions and expulsions
. In situations where a special education student faces disciplinary measures, the IEP may be reassessed and revised as necessary after the discipline is complete.
This video explains what special education is.
Vocational Schools
Vocational schools
have recently become more widely accepted in the postsecondary realm, offering a more direct career path than some four-year degree programs. However, students who wish to
enter the professional world directly after high school
can also find the training they need at a vocational high school. Long thought of as "alternative" high schools for students with academic or behavioral challenges, these schools are coming into their own as viable alternatives for students who wish to focus on a career path early in their academic experience.
Vocational schools take a twofold approach to education, offering a well-rounded dose of academics combined with specific career training in fields like
health care
, business, and technology. According to a study from
Florida State University
, students who participated in vocational education were more likely to graduate from high school. It also improved a student's chances of enrolling in a two- or four-year degree program after graduation.
The Families and Advocates Partnership for Education also cite statistics that show vocational education can lead to better jobs and higher pay. Evidence also suggests that vocational training leads to higher productivity and job stability. With the technology sector growing by leaps and bounds, vocational education appears to fit a very real niche in today's marketplace.
This video explains why you should consider a vocational education.
Finding the right school for your child sometimes involves thinking outside the box. By taking some of these schools into consideration, you can rest assured your child will find the best fit for his academic needs.
Questions? Contact us on Facebook. @publicschoolreview
While students are enjoying time off this summer, school district officials across the country are grappling with the issues associated with Common Core Standards, as well as plenty of opposition from parents and teachers.
As more schools return to in-person learning, teachers and parents find themselves dealing with the trauma and stress created by the pandemic.
After more than a year of remote learning, schools are finally returning to in-person instruction but how has the pandemic changed the face of public education and what will it look like moving forward?