Grading Public Schools: Accurate Assessment or Hype?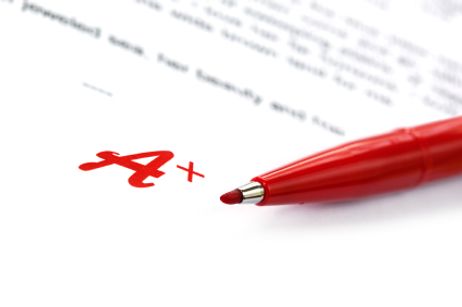 Grades are coming out for public schools across the country, and with the report cards come more questions about whether this is the best way to assess school performance.
As
No Child Left Behind waivers
are doled out to states nationwide, the next question becomes what will take the place of the federal mandate to assure parents schools are up to par in meeting the academic needs of students. Each state is left to its own devices in this regard, creating a sort of scorecards – or report card, if you will – to assess the performance of each individual school in a district. But while report cards may work reasonably well for individual students,
grading an entire school
district by a single rating system is proving much more challenging.
Conflicts within the Grading System
New grading systems within school districts offer parents a more accurate glimpse into the individual performance of schools much better than national test scores alone. In some states, these grades incorporate a number of factors, which might include standardized test scores, attendance and graduation rates, among others. Parents say the grades are important for helping them choose the best schools for their children. Schools, on the other hand, are concerned that this information may not be an accurate reflection of an individual school's performance.
Another concern is that new grading systems had to be implemented much too quickly to provide a real snapshot into the performance of an individual school. The fast deadlines, combined with more rigorous standards, may reflect an inaccurate assessment of the number of underperforming schools in any district. Some states are also in the process of creating new, statewide standardized tests, and current scores will not reflect the new standards. In the midst of the debate are the students who will determine, by their performance, which schools in the state will get the highest rankings.
Rankings May Confuse Parents in Wisconsin
While Wisconsin officials have agreed to release the report cards for schools in the state, the
Journal-Sentinel
reports that the results on the report cards may confuse parents and community members, as much as they inform them. The report cards are based on preliminary data from new state standards, which could be significantly less complimentary to the state's public school system in terms of reading and math. One of the problems is that the state has not had time to adapt to the new standards before putting out very public reports of how schools are living up to those standards.
"The state is using information that we really haven't had a chance to work with in this format and then putting out these very public grades," Todd Gray, superintendent of the Waukesha School District, told the Journal-Sentinel. "You can have a school performing well in many areas, and it could have an attendance problem, and it could put them in the category of not meeting any needs."
The new report cards in Wisconsin are designed to focus on four areas:
Improvement in state achievement scores
Achievement in reading and math
Closing of achievement gaps within student sub-groups
Readiness for high school graduation and rigors of higher education
While these scores will provide an accurate assessment of these factors in the future, school officials agree that early test scores are not as accurate. However, the state is pushing through the new report cards, so that students, parents and community members will get an idea of how their local schools are stacking up to the competition.
High – and Low – Grades Increasing in South
Fox 8
reports that while Louisiana schools are celebrating the increase in top-performing schools across the state, the increase in failing schools is also a concern. The state boasts 36 percent of its schools are receiving an "A" or "B" grade this year, compared to just 28 percent the prior year. However, the number of schools receiving an "F" also increased this year, from nine percent to 12 percent. Failing schools are attributed to the more rigorous standards adopted by the state, which raised the bar for schools currently earning a "D" grade.
The new scoring system in Louisiana is based almost exclusively on standardized test scores in both elementary and middle school. In high school, the criterion expands to encompass graduation rates as well. Overall, the state schools scored an average of a "C" rating, although individual school districts, like Jefferson Parish, found a way to bring their rating all the way up to the top echelon, according to the
Times-Picayune
.
Report Cards Delayed in Oklahoma, Parents Protest
School officials in Oklahoma have decided to delay the publication of school report cards, much to the chagrin of parents in the state. The delay was decided by the state's Board of Education and applauded by the teachers' union, according to
NewsOK
. However, parents and even some educators say the delay is a disservice to the parents and students and even the schools, since it does not provide them with the information they need to make appropriate improvements.
Grading System in New York May be Misleading
New York is another state providing report cards for schools
this year, but administrators worry that the grades schools receive may be misleading in terms of the actual performance of the each school. The
New York Daily News
reports that the data collected for this year's grades will be used to hold schools accountable next year. Although schools began receiving letter grades five years ago, officials are still tweaking the system to ensure the grades provide an accurate assessment of the school's ability.
While students continue to fret about their own report cards, the jury is still out on whether report cards for schools are really effective. With plenty of school districts serving as guinea pigs for new grading systems, it appears this system of rating schools is just in the introductory phase.
Being a teacher has never been easy but changes in federal funding and legislation have made it harder than ever for public school teachers. Keep reading to learn more.
Say goodbye to mystery meat - and all other types of meat - at public school cafeterias that are embracing the Meatless Monday trend.
Growing cases of contaminated tap water at public schools around the country are raising more than eyebrows. Learn about whether or not public schools' tap water is safe to drink.