Do More Police in Schools Result in More Students in Court?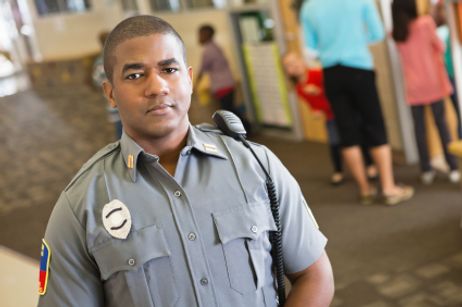 We look at recent reports that the additional police presence in schools across the country has also resulted in a higher number of students introduced to the court system.
The Newtown tragedy last December brought to light the vulnerability of public schools across the country. To answer concerns about student and staff safety, many have clamored for the addition of armed guards in every school nationwide. However, research suggests that placing armed police officers in schools may create more issues even as it is addressing the need for student safety.
Police presence in schools
may actually increase the number of students in the criminal justice system – often for minor crimes that could have been handled at the school level.
Not a New Idea
Despite the increased rhetoric surrounding police presence in school in recent months, the idea is not new. According to the
New York Times
, school districts have been using federal funding and other resources to bring police officers into schools since the 1990s. Known as "school resource officers," these armed officers typically
patrol high schools
and middle schools, but some have been placed in elementary schools as well.
Deseret News
reports that the U.S. Department of Education recently found around 28 percent of all public schools report they have an armed security guard on school grounds during class hours at least once a week.
Hundreds of larger school districts, including
Los Angeles
,
Philadelphia
, and
Houston
, have actually established their own police departments. These departments, boasting thousands of sworn officers and other staff members, are under the direct oversight of district officials. The
Los Angeles School Police Department
, which was established in 1948, has a staff of around 340 police officers and another 140 school safety officers that work inside schools throughout the district.
This video from CNN reports on the controversial arrest of a student in South Carolina highlighting the role of police officers in schools.
Does it Work?
With many police officers already working in schools, there is data to use in determining whether armed guards are effective in producing safer schools. In fact, the Youth Justice Coalition recently compiled data in the form of a white paper that demonstrates the specific impact of armed guards on the school environment. The results were published by Deseret News, and may not provide the information and answers one might expect:
When police presence in schools is combined with "zero-tolerance" discipline policies, it could have a negative impact both on schools and their surrounding communities.
More police presence has led to more student arrests at school, with the majority of students cited for minor infractions such as minor fights, disorderly conduct, and disruptive behavior.
Violent acts committed by students commonly take place outside of school, with just two percent of all student homicides occurring on school grounds.
"Instead of creating safe and nurturing learning environments, these policies have resulted in the criminalization of youth – particularly youth of color – for minor behavior, like being late for school or talking back." the white paper states. "[These behaviors] can be more effectively addressed by positive disciplinary measures like mediation, restorative justice practices, and positive behavior and intervention supports."
This video from Education Week analyzes federal data on school policing and found racial disparities in student arrests and referrals.
Texas Officers Write Thousands of Tickets
The New York Times reports that hundreds of thousands of students are written citations by police officers in schools each year. A disproportionate number of those citations go to African-American and Hispanic students. In
Texas
alone, more than 100,000 misdemeanor tickets are written to students each year. Those students may face significant amounts in fines and community service hours. In some cases, the ticket remains on the student's permanent record, which could impact the student's ability to get into college, get a job or volunteer for military service.
Earlier this year, Texas Appleseed and the NAACP chapter in Brazos County filed a complaint with the U.S. Education Department's Office of Civil Rights, stating black students were receiving citations at four times the rate of white students. In the meantime, the district is revising guidelines for issuing citations for students, in response to those concerns.
Questions Raised in Indiana
As legislation requiring armed guards in all
Indiana public schools
moves through the Indiana House and Senate, questions have been raised about whether this move is the best one for Indiana students. The
Herald Bulletin
reports that the bill has been pulled and revamped, as state lawmakers grapple with the best way to protect students. Currently, a clause is included in the bill that would require security personnel to participate in 40 hours of training prior to placement in a public school.
Lawmakers are pleased to see the clause since police officers in the school would have "full law enforcement powers," which include handcuffing students and arresting those that resist.
"If we're going to take the opportunity to put more police in schools, we need to take a step back to make sure they're well trained and that we have the best practices in place," JauNae Hanger, a civil rights attorney from Indianapolis, told the Herald Bulletin.
Portland Cops Labeled "Different"
In Portland, another type of dilemma is taking place. The
Oregon school district
is considering the elimination of 23 police officers currently working in Portland Public Schools as it seeks to trim a tight budget. Advocates for the resource officers told
Willamette Week
the officers in Portland schools are different from those in other areas. These officers spend time getting to know the students and are more interested in helping students than making arrests. The conflict has put the Portland mayor in the hot seat, as he struggles to balance the budget without sacrificing student safety.
The ACLU claim that guns send a 'negative message' and advocates police not be armed.
When it comes to keeping kids safe in schools, it appears there are no easy answers. While armed guards may seem like a good idea on the surface, past history suggests this approach may raise as many issues as it solves.
Questions? Contact us on Facebook. @publicschoolreview
Being a teacher has never been easy but changes in federal funding and legislation have made it harder than ever for public school teachers. Keep reading to learn more.
Say goodbye to mystery meat - and all other types of meat - at public school cafeterias that are embracing the Meatless Monday trend.
Growing cases of contaminated tap water at public schools around the country are raising more than eyebrows. Learn about whether or not public schools' tap water is safe to drink.