Healthy Cafeteria Options for Public School Students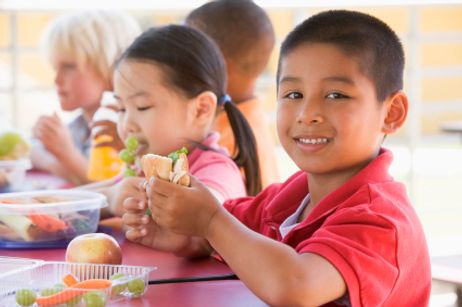 Learn how you can help improve your child's food options in public school cafeterias.
According to recent research, only 2% of American children receive the recommended daily nutritional servings from dietary choices. In an attempt to combat such issues of poor health and malnutrition, a non-profit organization called "Action for Healthy Kids" is actively striving to improve the meals available for public school students. As WTOP News explains, Action for Healthy Kids is striving "to address the epidemic of childhood obesity, is putting pressure on schools to cut back calories and dish out healthier options to students at lunch time."
The Unhealthy Public School Provisions
Middle and High Schools vs. Elementary Schools
According to MSNBC's article, "Secondary Schools Serve Unhealthy Foods," the
low nutrition
foods available to
middle and high school
students are far less healthy than the foods provided to elementary students. According to their report, researchers have discovered that the drastic shift in healthy food options for middle and high school students not only leads to poorer overall physical health, but also may be "the main difference between the lower and higher grades was the greater availability of unhealthful foods and beverages for older students."
Ultimately, researchers assert that the overall "school 'food environment' is significantly healthier in lower grades." One of the culprits leading to the unhealthy state of middle and high schools is the increasing number of vending machines in the upper education buildings. According to researchers, "while vending machines aren't automatic sources of unhealthful foods and drinks, they are -- along with a la carte cafeteria options -- known to be sources of low-nutrient foods. In other words -- junk food." Supporting this, studies show that 91% of all vending machine foods found in public high schools is considered to sell provisions that are deemed "unhealthy."
Public School Cafeteria Options
MSNBC's research also investigated the foods offered in public school cafeterias. According to reports, when examining the foods available for students a-la-carte in the cafeteria, "Almost 80 percent of these options were determined to be unhealthful." Adding to this, in 75 percent of the high schools, students were not allowed to leave the school campus for lunch, which further hindered students' access to other potentially more healthy food options.
Healthy Food Options in Public Schools
According to the Maryland Community Gazette's article "Developing Healthy Attitudes about Healthy Foods," surveys reveal that, although schools are required to meet national guidelines set by the US Department of Agriculture, most school foods do not contain enough of the vital nutrients and vitamins. For example, according to Maryland's public school surveys, "lunch, breakfast menus offered processed meats 40 percent of the time" in public schools. Added to this, "They don't really tell you about what type of food in each portion of the food pyramid […] So you don't know what you should be eating and what you can eat." As one public school nurse supports, simply putting healthy foods on the menu is not the sole solution: "'If we don't put anything but healthy food [on the menu] and the children have no other options, they will eat healthy food,' she said. 'Putting healthy food next to junk food doesn't solve the problem,' she added."
Tips and Options for Students
Since schools are required to provide students with a regulated standard of foods, students can strive to make healthier choices. Although most public school cafeterias often offer unhealthy foods, students can improve their options by avoiding common cafeteria foods such as:
· Over-processed foods, such as chicken nuggets and processed lunch meats
· High-sugar foods such as soda, most fruit juices, desserts, and canned fruits
· Pre-packaged and refined snacks, such as crackers and cookies
· White / refined carbohydrates, such as white breads, French fries
· Fried foods, such as fries, chicken nuggets, and so forth
To supplement these often favored foods among young kids and teens, students should seek to try a more balanced diet of whole grains, fresh fruits, and lean meats. These options include common cafeteria items such as:
· Lean proteins, such as turkey, on whole-wheat bread
· Fresh, un-canned fruits, like apples or bananas
· Fresh vegetables without butter, such as carrots
· Desserts that are lower in sugar, such as Jello
What Parents Can Do
While parents may struggle to greatly influence a particular school's lunch menu options, "Action for Healthy Kids" advocates that
parents
can work towards progress by advocating for vending-machine-free school zones, or vending machine restrictions in schools. Since most of the foods provided by vending machines are mostly unhealthy, parents should fight to have the majority of unhealthy options banned in vending machines on school property. Currently, "Action for Healthy Kids" is trying to work "with the schools in Washington D.C., not to get rid of the vending machines, but to change what's in those vending machines."
As "Action for Healthy Kids" further explains, since more kids are continually being diagnosed with weight-related issues and diseases, the organization "wants parents to check their children's menus along with their report cards." Furthermore, "fewer than one-in-five parents think schools offer good, nutritious food at lunch time, but fewer than one-in-four have ever complained about it." Yet with parental input, protest, and community and staff support, more schools across the country "have stopping selling sodas and have banned trans-fats for their food."
Questions? Contact us on Facebook @publicschoolreview.

While students are enjoying time off this summer, school district officials across the country are grappling with the issues associated with Common Core Standards, as well as plenty of opposition from parents and teachers.
As more schools return to in-person learning, teachers and parents find themselves dealing with the trauma and stress created by the pandemic.
After more than a year of remote learning, schools are finally returning to in-person instruction but how has the pandemic changed the face of public education and what will it look like moving forward?