Helping Children Adjust to the Beginning Years of Public School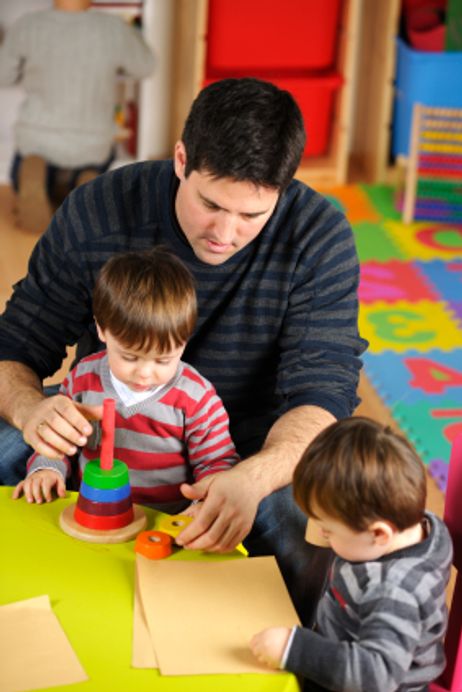 Learn how you can help your child to successfully adjust to the first years of public school instruction.
For parents who are, for the first time, introducing their young child into public school classes, or for parents who are helping their child to
adjust to a new and/or different school
, there are specific strategies and tips that can help students successfully adjust. As the National Association for the Education of Young Children (NAEYC) explains, "Back to school time often means changes for children and families: the first day of kindergarten or first grade; new preschools or child care settings; new classrooms and new teachers. Making smooth transitions between home, programs and schools can help children feel good about themselves and teach them to trust other adults and children."
By helping kids adapt to new situations and settings, parents can engage in their child's education and feel at ease regarding their son or daughter's successful transition to a new school.
Helping Students Transition Successfully
For children who are naturally outgoing, these kids may face fewer issues and challenges at a new school; however, if children are shyer and reserved, it can take a few weeks for them to adjust before becoming comfortable in the new school environment.
As NAEYC explains, transitions established by parents can help students comfortably and confidently move into a new setting and social situation: "Transitions are exciting opportunities for children to learn and grow. Parents and early childhood professionals share a role in making children feel safe and secure as they move to new educational settings." Since new milestones and settings can cause a great deal of anxiety for children, strong programs and family relationships can stimulate smoother transitions for both parents and kids.
Parental Involvement and Transition Efforts
To specifically guide students with successful transitions, NAEYC advocates that parents remain enthusiastic and excited about upcoming changes. This approach can inspire new confidence in children, as they will feel encouraged to become excited about new changes as well. Adding to this, parents can also become successfully prepared for upcoming changes by taking "note of how your child reacts to separation. If possible, visit the new setting with your child. Introduce your child to the new teacher or early childhood professional in advance."
Parents can also become pro-active by meeting with fellow parents from the school community prior to the new transition. With this
parental involvement
, parents can help socialize their children with familiar faces that will appear on campus. For example, before the school year starts, you can plan for a play date with another child from the same grade, which will give your child comfort on the first day of class. Furthermore, routines and continuity will help a child adjust to any new milestones and/or changes; therefore, parents should set a scheduled bed-time, play time, and activity time each day.
In addition, make sure you can allocate extra time in the morning, especially on the first day of school, to spend with your child. It will help to have time to eat breakfast together, talk about their feelings, and peacefully drive or walk to school. However, make sure that you do not extend the good-bye for too long. When actually saying goodbye to a child on their first day at a new school, the farewell should be firm and supportive, and should not be overly-coaxing.
Specific Struggles and Parental Intervention
While parents can strive to proactively prepare their child/children for new settings and school classrooms, some children may exhibit more anxiety and difficulty than others. If you think that your child is experiencing stress transitioning in the classroom, then schedule an
appointment with the teacher
. Teachers can often discretely intervene with children in order to encourage and interact with them without disrupting the class, and without embarrassing the child.
Ultimately, despite any hardships with adjusting and new school settings, children are often able to adapt very quickly. Even if students seem initially upset and disappointed, with parental and family support, children are most often able to rebound and adapt rather efficiently and successfully.
Questions? Contact us on Twitter. @publicschoolreview
Being a teacher has never been easy but changes in federal funding and legislation have made it harder than ever for public school teachers. Keep reading to learn more.
Say goodbye to mystery meat - and all other types of meat - at public school cafeterias that are embracing the Meatless Monday trend.
Growing cases of contaminated tap water at public schools around the country are raising more than eyebrows. Learn about whether or not public schools' tap water is safe to drink.