International Baccalaureate (IB) Programs at Public Schools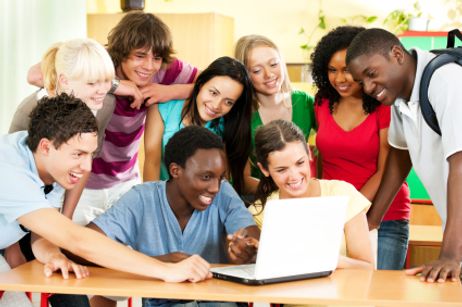 Learn about the International Baccalaureate (IB) program, and if this program is appropriate for your child.
As more children of all ages are excelling in standard public school programs, many districts have implemented new curriculum pathways for accelerated learning opportunities. For students who demonstrate above-average cognitive potentials, International Baccalaureate Programs are providing
gifted children
with the chance to learn in an enhanced classroom with increased pace and rigor, amidst peers working at the similar cognitive levels and abilities.
International Baccalaureate Programs (IB)
While each public school offers different honors and accelerated courses, International Baccalaureate programs are fully inclusive curriculum pathways. This means that, instead of only taking a few honors courses, students instead engage in a constant IB class schedule.
IB Programs are only available at specific schools; however, they are still publicly funded. Essentially, "The IB is a nonprofit educational foundation, motivated by its mission, focused on the student." Programs are available for students ranging from ages 3 to 19, to help develop the "intellectual, personal, emotional and social skills to live, learn and work in a rapidly globalizing world."
Since 1968, the IB Program has grown to work with 2,384 schools in 129 countries. Currently, 645,000 students are enrolled in the various IB Programs around the world, while being provided with three different programs: The Primary Years, The Middle Years, and The Diploma Program.
The Primary Years
The Primary Years Program is intended for students ranging from ages 3 to 12. As the IB institute describes, the Primary Years program "focuses on the total growth of the developing child, touching hearts as well as minds and encompassing social, physical, emotional and cultural needs in addition to academic development."
Drawing on research and practices from a variety of national systems of knowledge and experience, the Primary Years program provides students with challenging educational frameworks for each age level. Also, providing students with diversity in their instruction, "Curriculum documents are published in English, French, and Spanish but schools may offer the program in other
languages
under certain conditions."
The Middle Years
The Middle Years Program has been designed for students ranging from ages 11 to 16. At this age of early puberty and mid-adolescence, the IB institute feels that students are at a "particularly critical phase of personal and intellectual development and requires a program that helps students participate actively and responsibly in a changing and increasingly interrelated world." At this level, students learn how to critically evaluate information, while also learning facts and complex concepts. Furthermore, in The Middle Years Program, "Curriculum documents are published in English, French, Spanish and Chinese but schools may offer the program in other languages."
The Diploma Program
The Diploma Program is a two-year curriculum designed for students ranging from 16 to 19, and admirably "leads to a qualification that is widely recognized by the world's leading universities." This program seeks to prepare students for college and higher education by encouraging inquiry-based lessons and activities, paired with helping students develop a sense of self, culture, identity, and communication. As the IB Institute further describes, "The Diploma Programme is designed for motivated students who hope to attend university," and "enrollment in the programme is at the discretion of the school."
Are IB Programs Right for My Child?
IB Programs are often seen as quite admirable options for children of various ages, as they seek to "develop inquiring, knowledgeable and caring young people who help to create a better and more peaceful world through intercultural understanding and respect."
With this, however, some IB schools lack a more diverse scope of extra-curricular activities—which can also be significant factors in a child's development and enjoyment of school. Although some IB schools may lack the more physically-oriented activities, most still offer a wide
variety of clubs
and extra-curricular activities.
How Can I Enroll My Child in an IB Program?
Currently, children cannot take single IB courses, and IB programs are not available for home-schooling, so any student interested in IB opportunities must be enrolled in an IB World School. To enroll in one of the three programs, you should inquire to see which schools are in your area. You can speak with the school's IB coordinator to learn about admitting your child. To enroll in an IB Program, to find out about available IB Programs near you, and to find a school's IB Coordinator, visit their
website
.
Questions? Contact us on Twitter. @publicschoolreview
While students are enjoying time off this summer, school district officials across the country are grappling with the issues associated with Common Core Standards, as well as plenty of opposition from parents and teachers.
As more schools return to in-person learning, teachers and parents find themselves dealing with the trauma and stress created by the pandemic.
After more than a year of remote learning, schools are finally returning to in-person instruction but how has the pandemic changed the face of public education and what will it look like moving forward?