More Truths Revealed about Charter Schools: Which Students do They Serve Best?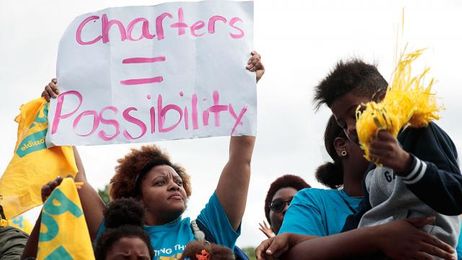 New studies and research about charter schools reveal interesting trends in charter schools. Between low-income and high-income students, learn about which type of student flourishes in charter schools.
Despite their attraction to many parents and educators today, some charter schools have received a bad rap for cherry picking the best students in the area to provide the schools with top-notch
performance scores
. However, a number of recent studies have suggested that the students who benefit most from the charter school structure are not the privileged students after all. In fact, many
low-income
and minority students are also reaping the many advantages charter schools can offer.
What is a Charter School?
A
charter school
is funded with public money and offers an alternative to traditional public schools. In most cases, a private group of individuals submit a charter for approval, and they are then granted the ability to run their own school in exchange for promising improved academic results. Most charter schools are given a set period of time, ranging from three to five years, to prove themselves as a preferred academic institution. If the charter school does not perform up to expectations, the charter may be pulled and the school closed down.
Charter schools have become a popular option for many parents and students today, primarily due to the alternative choice charters offer. Because the schools have greater influence from teachers and parents, curriculum can often be structured around the specific needs of the students in the school. This might explain why charter schools are a particularly viable option for students in low-income or high-minority areas, where kids might need a more creative approach to get the best possible education in their circumstances.
Latest Research
A recent study was released by Mathematica Policy Research and the Institute of Education Sciences, which studied 36 charter middle schools across 15 states. The study showed that charter schools were more effective with lower-income and lower-achieving students, but less effective with
high-income
, high-achieving students. The study also found that students in urban areas showed much higher achievement in math than students who did not live in an urban environment.
The study also found that children and parents voiced a higher level of satisfaction with charter schools than other types of public schools. However, charter schools did not see a difference in attendance, student behavior and measurable student effort, either positive or negative. Some of the factors that might have contributed to the study results included smaller
class sizes
and the tendency to ability-group students for math and English classes.
Another current study looked at the relationship between school revenue and expenditures and was recently reported in the
Washington Post
. The study, conducted by Gary Miron and Jessica L. Urschel from Western Michigan University, found that charter schools receive less revenue per student than other public schools. However, these results might be somewhat misleading, considering that public schools differ dramatically in how they receive funds, and some charter schools also receive private funding that was not accounted for in the study.
The study, titled, "Equal or Fair? A Study of Revenues and Expenditures in American Charter Schools," also found that charter schools tend to spend less per student than other public schools, while paying more in administrative costs. Charter schools also spent less on special education teachers and employee benefits. This report was published jointly by the Education and the Public Interest Center at the University of Colorado at Boulder and the Education Policy Research Unit at Arizona State University.
Better for Minorities
Recent data presented by New York City's Department of Education and reported in the
New York Post
showed that minority students who attend charter schools have a greater than average chance at getting into the top high schools than other kids. This study revealed that African American students were 60% more likely to make it into the most desirable secondary schools, while Hispanics were twice as likely to get into the schools as minority students from other public institutions.
Students who get into the prestigious high schools in New York also enjoy greater odds of getting into desirable universities and achieving professional success in life. According to the Post, this study might suggest that minority students who attend charter schools in the city may get a better quality of elementary and middle school education than other kids in the area.
The studies on the success of low-income and minority students who attend charter schools are compelling, and educators and parents alike are taking notice. While many variables go into calculating academic success and achievement, these studies suggest that enrollment in a charter school over other types of public institutions might be a good place to start.
Learn about why technical public high schools are earning attention for their unique career-training opportunities.
In light of an upcoming study on Montessori education in South Carolina, as well as the growing popularity of the Montessori Method in public charter schools, we'll take a look at the principles behind Montessori education and whether it is an effective method for preparing some students for the professional world or higher education.
Some educators and community leaders are pushing for more math and science at the high school level. Is the move really necessary and if so, how do schools get students more interested in these STEM subjects?