Sexual Harassment at Age 6: The Tale of a First Grade Suspension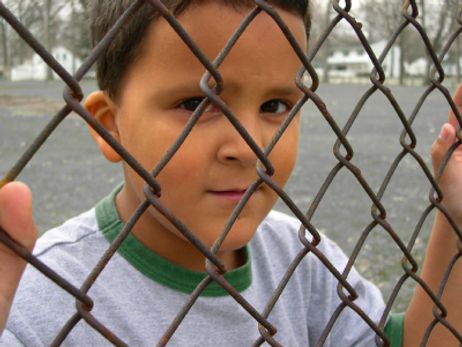 A six-year old in Aurora, Colorado, was suspended after singing an LMFAO song to a little girl in his class and reportedly "shaking his booty." We look at the case and the sexual harassment problem in public schools today.
Most educators, parents, and students would agree that
sexual harassment
is a particularly devastating form of
bullying
that can negatively impact a student's academic performance, as well as the physical, emotional, and mental health of the student. The definition of sexual harassment, according to the
Free Dictionary
states, "Unwelcome sexual advances, requests for sexual favors, and other verbal or physical conduct of a sexual nature that tends to create a hostile or offensive environment." As one six-year-old Colorado boy discovered, sexual harassment also apparently knows no boundaries in terms of the age of the perpetrator or the victim.
This video explains what sexual harassment is.
The Story of D'Avonte Meadows
D'Avonte Meadows is a first-grader at Sable Elementary in Aurora. The six-year-old was recently suspended from school for three days, after being accused of sexual harassment and disrupting other students. The crime? Allegedly, Meadows was singing a line from an LMFAO song, "I'm Sexy and I Know It," to a female classmate while waiting in the lunch line at his school.
According to a report at the
Washington Post
, Meadows was sent home from school after the incident, along with a letter from the school district to his mother, explaining why he was suspended. School officials would not comment on the case initially, but did point out the definition of sexual harassment according to school board policy, which called it an "unwelcome sexual advance." There is no age limit associated with the policy.
The day after the suspension, the school district issued a statement, stating its effort to make the school environment an equal one for all students.
"Aurora Public Schools is committed to providing equitable learning for all students. We have policies and protocol in place to prevent any disruption in the learning environment," Paula Hans, spokeswoman for the district, wrote in the statement. "Due to privacy laws, we are unable to discuss appropriate disciplinary consequences about a specific student."
This video outlines a proactive approach to sexual harassment in schools.
Boy Had Previous Discipline Issues, Mother Says
Meadow's mother, Stephanie Meadows, told
ABC News
that her son had been sent to the principal's office a month earlier for singing the same song to the same girl. This time, Meadows said D'Avonte was "shaking his booty" at the classmate as he was singing.
"I'm going to definitely have to sit down with him and see if he understands exactly what the song means," Stephanie Meadows told ABC.
"I only just said the song," D'Avonte added in the ABC interview. "I'm sexy and I know it."
Meadows doesn't believe her son's actions justify a three-day suspension based on accusations of sexual harassment. She said her son doesn't understand what "sexual harassment" means, and he was simply quoting the lyrics to a popular song. "I'm Sexy and I Know It," was the top song on Billboard's Hot 100 chart for two weeks in January.
"I'm just, I'm floored," Meadows told the Washington Post. "They're going to look at him like he's a pervert. And it's like, that's not fair to him."
She sat down with school officials the week after the suspension to discuss the measure. The school agreed to change the charges to simply "harassment," based on D'Avonte's age, according to the Huffington Post.
This video explains how to discuss sexual harassment with children.
Zero-Tolerance: The Best Choice?
Denver attorney Craig Silverman told the Washington Post that free speech applies to children, as well as adults, as long as the children involved know and understand the rules. Silverman said that exceptions to policies like that of Aurora Public Schools should be considered when they are warranted.
Currently, another zero-tolerance policy is before the Colorado Legislature, regarding discipline policies related to weapons and violence. After the Columbine High School shootings in 1999, state lawmakers issued a policy regarding disciplinary measures for students who brought weapons into schools. Unfortunately, the zero-tolerance clause has resulted in suspensions for students who have tried to break up fights or brought faux weapons to class. A similar policy in Florida resulted in the suspension of two young girls; one for bringing a plastic knife to school and another for having a butter knife in her possession.
Cause for Concern
While the current case in Colorado may seem ludicrous on the surface, there is
a reason for schools to be concerned
about problems related to sexual harassment. The
New York Times
reported on a study by the American Association of University Women last year that showed nearly half of all seventh through 12
th
graders have experienced some form of sexual harassment within the past school year. Eighty-seven percent of those students reported negative effects of the harassment, including interrupted sleep, stomachaches, and a high number of missed school days.
"It's pervasive, and almost a normal part of the school day," study author Catherine Hill was reported saying in the Times article.
The Huffington Post
, which also reported on the study, cited some of the types of sexual harassment included in the research as "having someone make unwanted sexual comments about them, being called gay or lesbian in a negative way, being touched in an unwelcome sexual way, being shown sexual pictures they didn't want to see being the subject of unwelcome sexual rumors."
However, in the case of little D'Avonte Meadows, it appears to be a situation of sexual harassment prevention gone bad. D'Avonte's mother summed it up when she told ABC, "I could understand if he was fondling her, looking up her skirt, trying to look down her shirt. That, to me, is sexual harassment."
Questions? Contact us on Facebook. @publicschoolreview
While Facebook is getting all the attention in teen social media, LinkedIn offers some serious benefits in networking and professional grooming. We look at how high school student can use this network to their advantage.
Teach for America has been applauded for many of its exemplary teachers and innovative training, but can the model be sustained throughout all communities? Learn about what the proponents and critics have to say.
The Obama administration is proposing to leave NCLB behind. Learn about the proposed reforms that will change the No Child Left Behind Act.