Students of Color Disproportionately Disciplined in Schools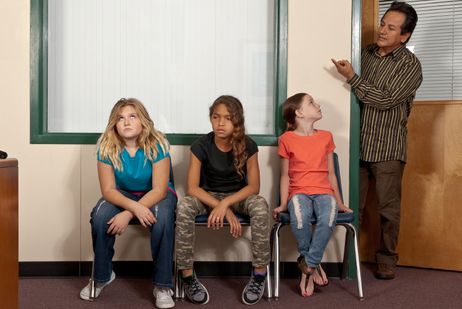 Research shows that students of color face a disproportionate number of disciplinary actions in U.S. public schools. Learn about these disparities, as well as the policies that fuel them. Also learn about suggested measures to address this problem.
According to a
2014 report
by the U.S. Department of Education's Civil Rights Office, widespread racial disparities exist in terms of how schoolchildren are punished. The longitudinal study looked at data from the past 15 years and found that minority students face a disproportional number of disciplinary actions in schools across the country, from those in affluent suburban neighborhoods to those in the poorest urban areas.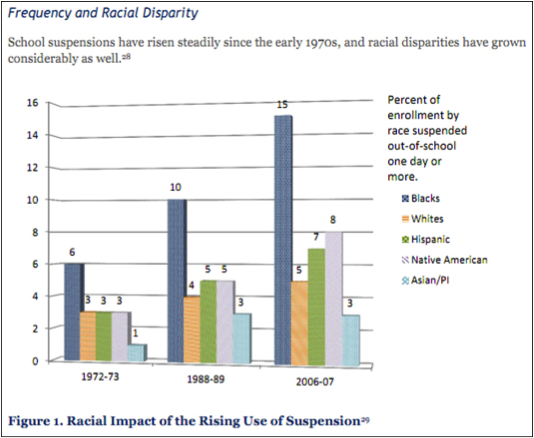 Graph from
HechingerEd
These disparities have been known for some time in middle schools and high schools, however, this report reveals that unfair discipline procedures begin as early as preschool. The data, which was collected from 97,000 public schools from across the country, paints a troubling picture:
Black and Latino students are consistently punished more severely than white students for the same infractions.
Nearly 50 percent of preschool children who are suspended multiple times are black, yet black children represent less than one-fifth of the preschool population.
Black students are far more likely to be referred to law enforcement or arrested for a school-based offense than white students or other students of color.
Black girls are suspended at a much higher rate than girls of any other race.
Students with disabilities, who represent only 12 percent of the public school population, account for almost 60 percent of students who are placed in seclusion.
Zero-Tolerance Policies
Many students who are suspended or placed in involuntary seclusion are put there because of zero-tolerance policies that schools have put in place over the last two decades. Zero-tolerance policies began initially as a response to major infractions, such as possession of a weapon on school grounds or assault against a student or school employee. However, over the years, zero-tolerance policies have expanded to include less severe infractions, and as a result, the number of mandatory suspensions and expulsions has skyrocketed.
This PBS Newshour clip discusses racial disparities with respect to discipline
Critics of zero-tolerance policies point out that not only do these policies unduly target children of color, children who are suspended or expelled from school because of these policies face a number of additional negative consequences. Children who are suspended or expelled are much more likely to fall behind on schoolwork, be suspended again, be required to repeat a grade, or drop out of school altogether. Furthermore, students who are not in school may also use their abundance of "downtime" to engage in further negative behaviors and acts of delinquency, such as drug or alcohol use. Additional criticism of zero-tolerance policies is that they don't teach corrective behaviors – students are simply punished swiftly and sent off school grounds to fend for themselves. But perhaps most troubling is the association between school discipline and incidence of incarceration, a link that Attorney General Eric Holder calls a "school-to-prison pipeline." Students who are consistently punished in school, especially students of color, have a much higher risk of becoming involved in the juvenile justice system and the criminal justice system as adults.
What's the Solution?
The question now is, how do we fix this pervasive problem in the American educational system? The consensus seems to be taking a more positive approach to school discipline. Programs to improve the school climate, such as those that seek to reduce harassment, intimidation, and bullying, have been shown to significantly reduce the number of discipline referrals. In fact, schools that have implemented these programs have seen as much as a 60 percent drop in the number of disciplinary actions taken over the course of an academic year. Other popular proactive approaches include:
Violence prevention – many behaviors that result in suspension or expulsion are related to violence. Delivering a prevention curriculum designed by school psychologists, counselors or social workers can help students identify the warning signs of violence and equip them with the tools they need to manage their emotions and make more positive decisions.
Social skills training – some students simply lack the appropriate social skills to engage with their peers and adults in an appropriate manner. Programs like Positive Behavioral Interventions and Supports seek to recognize and reinforce positive behaviors with proactive programs, rather than focusing on reactive measures of punishment.
Early intervention strategies – heading off negative behaviors early on is key to preventing those behaviors from escalating into major behavioral issues later on.
This training video discusses school violence and how to identify the warning signs.
Secretary of Education Arne Duncan further suggests more counseling for kids, more training for teachers and classroom aides, as well as school-based programs that teach kids about conflict resolution strategies, communication skills, and anger management as a means of reversing the trend of unfair discipline practices in our schools. To facilitate this change, the Department of Education is making $300 million in grant funding available to schools that seek a more positive and equitable approach to discipline.
While addressing the disparities in discipline procedures is not going to be a quick process, it is certainly one that needs to be undertaken if all schoolchildren are to receive equal access to the education they deserve. Implementing proactive strategies that help children learn appropriate behaviors to replace reactive punishment-based discipline seems to be a good place to start.
Questions? Contact us on Facebook. @publicschoolreview
Being a teacher has never been easy but changes in federal funding and legislation have made it harder than ever for public school teachers. Keep reading to learn more.
Say goodbye to mystery meat - and all other types of meat - at public school cafeterias that are embracing the Meatless Monday trend.
Growing cases of contaminated tap water at public schools around the country are raising more than eyebrows. Learn about whether or not public schools' tap water is safe to drink.