Washington DC's Gains Under Michelle Rhee: A Result of Cheating?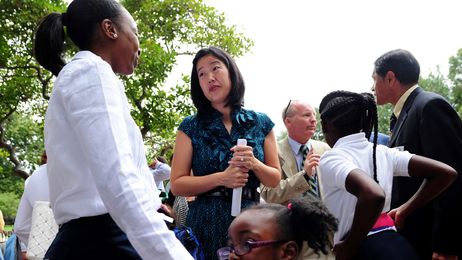 Michelle Rhee is in the hot seat once again, as concerns about cheating abound during her time as chancellor of Washington DC schools. Learn about the high incidences of erasures and why the accusations are flying.
Michelle Rhee
is a controversial figure, to be sure. During her brief tenure as chancellor of
Washington D.C. schools
, Rhee managed to ruffle more than a few feathers. She also developed a loyal fan base that has followed her to her latest project, StudentsFirst, a non-profit committed to education reform. Since her exit from Washington schools, some questions remain about whether Rhee's approach to education reform really does put students first. Case in point: there are recent questions in an in-depth report by USA Today about a high number of
changed answers
on standardized tests in some Washington schools.
Details of the Report
An investigation by
USA Today
exercised D.C.'s Freedom of Information Act to obtain data that documented
test scores
for one of Washington's schools for the past three years. Crosby S. Noyes Education Campus was considered a "shining star" by Washington's public school officials, after the school was able to raise standardized test scores by record-breaking numbers. In 2006, only 10 percent of Noyes students scored "proficient" or "advanced" in math. Just two years later, as many as 58 percent scored that high, and reading scores shot up as well.
Michelle Rhee was particularly interested in Noyes, and she used the school as an example of how her implemented changes could transform struggling schools into academic powerhouses. The school was rewarded by Rhee in 2008 and 2010. Both of those years, teachers and the principal received hefty monetary bonuses by the state. However, the fact that Noyes proficiency rates skyrocketed much more quickly than other schools in the Washington are raised some eyebrows – and some concerns – by educators and journalists reporting on the phenomenon.
Erasures Questioned
During their investigation, USA Today found that Noyes has an extraordinarily high number of erasures on their tests during those years. Investigators found a pattern of erasing wrong answers and switching them to correct ones. Noyes was one of 103 public schools in D.C. that had an irregularly high number of erasures on tests, which is more than half of all the schools in the district.
Erasures are detected by the same electronic scanners used to grade the tests. The testing company for Washington D.C. schools, McGraw-Hill, flagged six Noyes classrooms out of the eight taking the tests because of a high incidence of erasures during the 2007-2008 school year. A similar pattern was found in the next two school years, as McGraw-Hill flagged up to 80 percent of Noyes classrooms.
Responses to the Report
When the acting chancellor of D.C. Public Schools, Kaya Henderson, was questioned by USA Today about the high number of erasures, Henderson told the publication that "a high erasure rate alone is not evidence of impropriety." Henderson added that D.C. has "investigated all allegations of testing impropriety. In those situations in which impropriety has been found, we have enforced clear consequences for the staff members involved, without hesitation."
The
Washington Post
reports that in response to the allegations by USA Today, Henderson asked the D.C. Inspector General to investigate the reports of cheating on tests. Henderson also released a series of reports from a test security firm the District hired previously to investigate the erasure rate. Caveon Test Security investigated district schools in 2009 and found no evidence of test tampering at that time. However, questions were raised about whether the security company went far enough in questioning teachers about the test protocol. The investigators never questioned students, and parents were not notified of the investigation at the time. The D.C. Inspector General will interview the children who were tested, as well as their parents.
Rhee's Response
When Rhee was questioned about the possibility of cheating on standardized tests on her watch, Rhee called the allegations "insulting." Rhee's response is documented in the
Washington Post
, "It isn't surprising that the enemies of school reform once again are trying to argue that the earth is flat and that there is no way test scores could have improved for DCPS students unless someone cheated…This story is an insult to the dedicated teachers and schoolchildren who worked hard to improve their academic achievement levels."
Rhee reiterated her response to PBS host Tavis Smiley later that day. Her response to Smiley was also recorded in the Post, when Rhee said, "Often times when the academic achievement rates of a district like D.C. go up, people assume that it can't be because the kids are actually attaining higher gains in student achievement, but that it's because of something like cheating, which in this case, is absolutely not the case."
Another report in the
Washington Post
stated that just two days after her response, she called Jay Matthews to apologize and called her comments "stupid." She agreed that cheating might have occurred in the district, and she voiced approval for the fact that her successor is following up with a new investigation of the possible problem. Rhee told Matthews, "You have got to have really strong test security protocols at the district level and at the state level. The vast majority of people will not cheat, but there will be exceptions here and there."
The results of the current investigations will be awaited by many anxious Washington residents, including the children who took the tests; the teachers who have their reputations on the line; and the parents who often
select their children's school
by the test scores. Mostly, those in favor of
standardized testing
will be watching to see if this is another black mark against holding schools accountable by the test scores they produce.
Being a teacher has never been easy but changes in federal funding and legislation have made it harder than ever for public school teachers. Keep reading to learn more.
Say goodbye to mystery meat - and all other types of meat - at public school cafeterias that are embracing the Meatless Monday trend.
Growing cases of contaminated tap water at public schools around the country are raising more than eyebrows. Learn about whether or not public schools' tap water is safe to drink.