Are Public Schools Still Fighting for De-Segregation?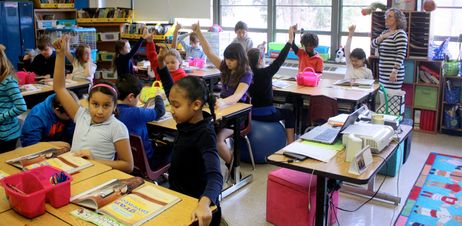 Learn about how public schools today are fighting against a modern form of segregation: racial isolation.
While the unjust days of official segregation ended 40 years ago, public schools today are struggling against another type of segregation: racial isolation. Public schools in both urban and rural areas have been experiencing racial isolation, which occurs when one district is densely populated by a predominant ethnic group.

To combat these geographically-induced segregation trends, public school leaders have created integration programs to develop more diverse student populations. While the concept of mandatory racial integration may sound strange to an unfamiliar ear, schools across the country have implemented "reassignment" programs to increase diversity. In many cases, public schools have enforced specific race-based quotas – and these practices have ignited controversy on both sides of the debate.
Chicago Public Schools: Mandatory Racial Integration
Gaining a major spotlight in national news are public schools in
Chicago
, who redesigned their enrollment practices to diversify their student population, according to the
Chicago Tribune
. However, these changes have ignited a frenzy of media and legal attention.
In late September of 2009, a federal judge ordered Chicago public school leaders to end their mandatory racial integration efforts, citing that the practices were inadvertently causing unjust treatment and social malfeasance. The judge's decision, although welcomed by many educational leaders and community members, "presents district officials with a quandary increasingly shared by urban districts across the nation: how to achieve racial equality without making explicitly race-based decisions."
In examining Chicago's race-based school assignment practices, the schools most recognized for enforcing racial quotas were many of the district's 75
magnet schools
, wherein at least 65 percent of the school's classroom seats were designated for minority students. Similarly, approximately 35 percent of classroom seats were reserved for Caucasian students; however, the prevalence of Caucasian students has gradually diminished, and statistics show that Caucasian students only make up 8 percent of the student population of the magnet schools.
Chicago school leaders argue that their racial "standards" for schools were designed to de-segregate many of the primarily Caucasian and minority schools in the city. As a result of the recent judgment to end these practices, "Critics fear the decision will cripple efforts to integrate the district, and point to other cities that have seen a school system become re-segregated once court-ordered integration ended." Adding more concern to this fear, many community members are worried that the magnet and elite schools will gradually become "bastions for the wealthy white."
Examining the Nation: Are Schools Still Substantially Segregated?
The controversy Chicago public schools face is not new. In fact, the
San Francisco's Unified Public School District
was forced to make similar policy changes in decades past. As early as 1983, leaders of San Francisco public schools mandated the "Elimination of racial/ethnic segregation or identifiability in any school, program, or classroom to the extent practicable."
However, plaintiffs in 2001 brought a complaint to the court, asserting that the public schools of San Francisco were in violation of the United States' "Equal Protection Clause." The plaintiffs argued that students attending some of San Francisco's public schools were being discriminated based on their race. The District Court approved an agreement between the plaintiffs and the schools to ensure that leaders would, "Take all practicable actions to eliminate existing segregation and vestiges and past segregation." Ultimately, this settlement prohibited school leaders from using race as a determining factor to assign students to specific schools and classrooms.
Racial isolation continues to be an issue that public schools in America face. As schools across the country struggle to create more diversified student populations, controversy is certain to rise again.
Being a teacher has never been easy but changes in federal funding and legislation have made it harder than ever for public school teachers. Keep reading to learn more.
Say goodbye to mystery meat - and all other types of meat - at public school cafeterias that are embracing the Meatless Monday trend.
Growing cases of contaminated tap water at public schools around the country are raising more than eyebrows. Learn about whether or not public schools' tap water is safe to drink.