Charter Schools Produce More Graduates than Public Schools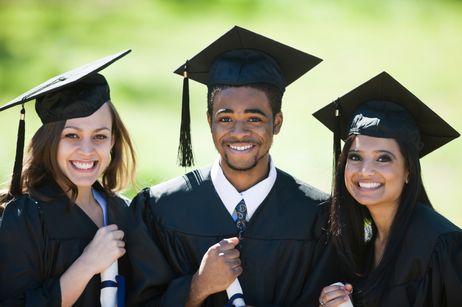 Studies show that graduation rates at charter schools outpace graduation rates at public schools. Learn how charter schools have been able to improve graduation rates, and the positive effects charter schools have on students' lives in the long-term.
The ideas behind the development of charter schools began in the 1950s. However, credit for beginning the charter school movement generally goes to former American Federation of Teachers President Albert Shanker. Shanker called for reform to public schools in the late 1980s that inspired states to pass legislation permitting the establishment of charters. Minnesota took the lead in 1991, creating the
nation's first legislated charter school
, which opened the following year.
The charter school movement was borne out of the nation's desire to improve education. This has long been a point of emphasis in our country and is often a hallmark of presidential debates and congressional action. However, determining the best way to prepare the country's youth for post-secondary education and the workforce can sometimes be difficult to do. Parents have many options for their child's education, including charter schools, traditional public schools, private schools, magnet schools or homeschooling. But when it comes to the debate between charter schools and public schools,
recent data
collected by Mathematica Policy Research reveals that charter schools seem to be doing a better job of graduating students and preparing them for life after high school.
This video compares charter and magnet schools.
Educational Benefits
According to Mathematica, the graduation rate at charter schools is between 7-11 percent higher than public schools in the same area. Even for at-risk students, who may not have the financial, social, or family resources that other students enjoy, graduation is more likely at a charter school. Furthermore, students who graduate from charter schools are 10-11 percent more likely to enroll in college. Better still, charter school graduates are more likely to complete at least two years of study at a two or four-year college than their public-school peers.
Charter schools have a good track record of producing results, even in the most difficult circumstances. Charters in low-income and urban school districts post
significant student gains
in achievement in math, science, social studies, and reading. These gains are directly attributed to the out-of-the-box thinking upon which charter schools are based. Many schools use longer school days, tougher grading policies, and higher expectations to motivate students to succeed to the best of their abilities.
In this video, elementary school students from Barack Obama Charter School sent a video message of congratulations to Urban Prep graduates.
Proponents of charter schools maintain that this success is a direct result of the innovation that charter schools bring to the educational process. Charters work outside the bureaucracy of traditional public schools and are free to develop cutting-edge programs that engage students in learning in unique ways. But the benefits of this innovation aren't just experienced by children in charter schools.
Research shows
that when a charter school opens in a community, more than 50 percent of traditional districts develop new programs for students.
It is these positive gains that garner so much praise for charter schools. In fact, according to a
Gallup Poll
on American education, charter schools rank higher in parental satisfaction than do traditional public schools. However, there is still work to be done for charters - they still lag behind private schools in terms of overall satisfaction.
Economic and Social Benefits
The Mathematica study also examines the impacts a charter school education has on employment earnings. The study shows that Florida students who attend a charter school will earn nearly 13 percent more in income between the ages of 23 and 25 than students who graduate from a traditional public high school. This statistic is of particular interest to the Obama Administration, which has pushed an educational agenda that prepares kids for movement into the middle class.
Furthermore, charter schools have demonstrated a capacity to
improve students' lives outside the classroom
. Studies show that charter school students in Harlem have lower rates of teen pregnancy and incarceration than their public school peers. They exhibit far fewer risky behaviors due in large part to the demands of school – school days are longer, as is the overall school year. Schools are open in the evening to offer tutoring services, and on the weekend to offer remedial courses in English and math. The idea is that the more time kids spend in school, the less time they will have to engage in unhealthy or delinquent behaviors. In that regard, charter schools aren't just a means of obtaining a good education, they are also a vehicle for low-income and at-risk children to change the course of their lives for the better.
In this video, Caroline Hoxby, Ph.D., the Scott and Donya Bommer Professor of Economics at Stanford University, discusses the value of charter schools.
The main impetus for creating charter schools was to close the achievement gap and give families more choice with regard to their child's education. With new data consistently showing that charter schools outperform traditional public schools, it seems that the desire for more equitable education has been fulfilled. However, if public schools continue to lag behind charter schools in terms of academic performance, graduation, and college and work readiness, there will be a new achievement gap in American education, but this time, it will be public schools lagging behind.
Questions? Contact us on Facebook. @publicschoolreview
While students are enjoying time off this summer, school district officials across the country are grappling with the issues associated with Common Core Standards, as well as plenty of opposition from parents and teachers.
As more schools return to in-person learning, teachers and parents find themselves dealing with the trauma and stress created by the pandemic.
After more than a year of remote learning, schools are finally returning to in-person instruction but how has the pandemic changed the face of public education and what will it look like moving forward?