While some school districts have moved to year-round schedules, most still adhere to the traditional nine-month calendar, with a winter break, spring break, and a lengthy summer break sprinkled throughout the year. These vacations offer much-needed respite from school, but even spring break, which is typically only a week, can have a measurable negative impact on a child's mental acuity. At 10-12 weeks, summer vacation can result in a substantial brain drain that can significantly impact your child's education.
What is Brain Drain?
As the saying goes, if you don't use it, you lose it.
According to research
, over the course of summer vacation, students lose between 2 to 2 ½ months of math skills from the previous year's learning. This loss of computational understanding is experienced by children regardless of their background or family income. Some students also experience significant setbacks in reading ability as well. Students with a low socioeconomic status can lose up to three months of reading skills in just 2-3 months of summer break. These deficits also appear during the shorter winter and spring vacations, although not in nearly as robust a fashion.
The vacation brain drain is a serious issue for children of all ages, but the stakes are much higher for kids in high school. With SATs, ACTs, AP and IB courses, and other high-demand academic requirements, high schoolers can little afford to return to school having lost 2-3 months of academic skills. Fortunately, this brain drain can be
substantially or completely reversed
if children participate in meaningful learning over the course of their various vacations.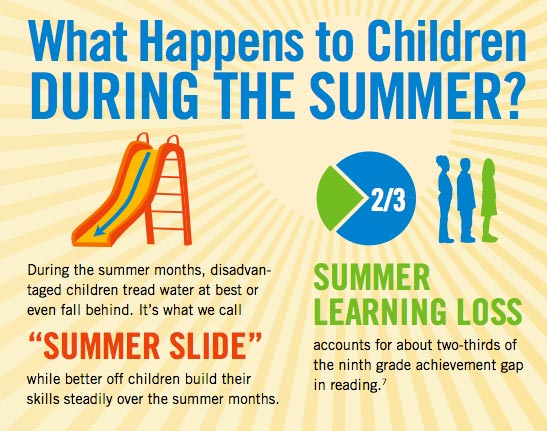 Source: www.expandedschools.org
Meaningful learning doesn't necessarily mean your child needs to attend summer school or spend each day of winter break hunched over a book. There are all sorts of fun and creative ways that you can keep your child's mind active. Many of these methods make learning fun so that your child won't even realize that he or she is learning!
Take Advantage of Teachable Moments
Keeping your children engaged in learning doesn't have to be forced, nor does it have to take up a lot of their time or yours. If you've got a trip to a baseball game planned, spend some time with your child calculating batting averages or slugging percentages to keep mathematics on their mind. Take a trip to the zoo and have your child read the animal descriptions aloud to you to keep their reading skills fresh. Encourage your kids to keep a journal of their summer activities so they can practice their reading and writing skills.
Also think about spending some time as a family reading a book or a story, or make a habit of doing the daily crossword together. Have your child calculate the tip when you go to dinner, or make a budget for grocery shopping. Any little bit helps, and each of these activities will do the trick for maintaining your child's current skill level in math and reading. What's more, demonstrating that the skills they learn in school have actual applicability to real life will make their learning that much more valuable and meaningful.
Use Technology to Facilitate Learning
Chances are your child has access to a mobile phone, tablet, or laptop, and putting those tools to good use is a logical step in fighting the vacation brain drain. A quick search of the app store reveals a host of great apps that incorporate fun and games with learning actual skills. Some excellent math websites and apps include:
Quick Math Jr. – Geared towards beginning mathematicians, this app improves number recognition and counting through game-play.
NRICH – This website keeps kids interested in math by presenting fun problems for them to solve. Games are available for kids of all ages.
Numbers League – This fun iPad app places users in a superhero role that must use math to save the city. Kids can play alone or against one another. For ages five and up.
Math Shack – This website offers activities that are aligned to the Common Core Math Standards. Kids can track their progress, and if they need help, an integrated help station will move things along. For middle and high school students.
If your child needs to brush up on their English language arts skills, there are an abundance of great websites and apps:
The Joy of Reading – Available on the iTunes store, this app promotes basic reading skills such as phonemic awareness and phonics. For ages 5 and under.
Studycat – Available for Android and iOS devices, Studycat's apps get kids involved in reading through entertaining and engaging games. Perfect for children 3-10 years of age.
Mindsnacks – This app tests kids' understanding of vocabulary and helps sharpen their reading and writing skills. For children in 2nd through 7th grade. Available for iOS devices.
SAT Word Slam – Focusing on vocabulary skills, this app helps teens prepare for the language arts section of the SAT and ACT. Available on the iTunes store.
YALSA – The Young Adult Library Services Association offers a list of the best books of the year for young adults. Most books are available in paperback and digital formats.
There are hundreds of math and language arts-related apps on the iTunes and Google Play stores, many of which are free to download. Browsing the selection with your child will allow you to find something that is of interest to them, and which also meets your criteria for being something with educational value.
An excellent website that provides learning opportunities for kids of all ages is
Khan Academy
. Their Common Core-aligned exercises are interactive and focus on real-world application of knowledge and skills. Lessons are personalized, and the site's software helps students identify where their gaps in learning and understanding exist. Complete curricula are available in math, science, economics, the arts, and the humanities. Various test prep courses are also available. The site is completely free as well.
Have Your Child Try a MOOC
MOOCs –
Massive Open Online Courses
– are perfect for high school-aged kids to explore college-level areas of interest. MOOCs are offered by hundreds of universities around the world, including top schools like Stanford, MIT, Harvard, and UC Berkeley. Many courses are completely free. There is a selection of self-paced courses as well, which are perfect for shorter vacations like winter break. With courses on everything from architecture to literature to physics, older kids are sure to find something of interest. There is also a selection of high school courses available, including many test prep courses for various AP exams.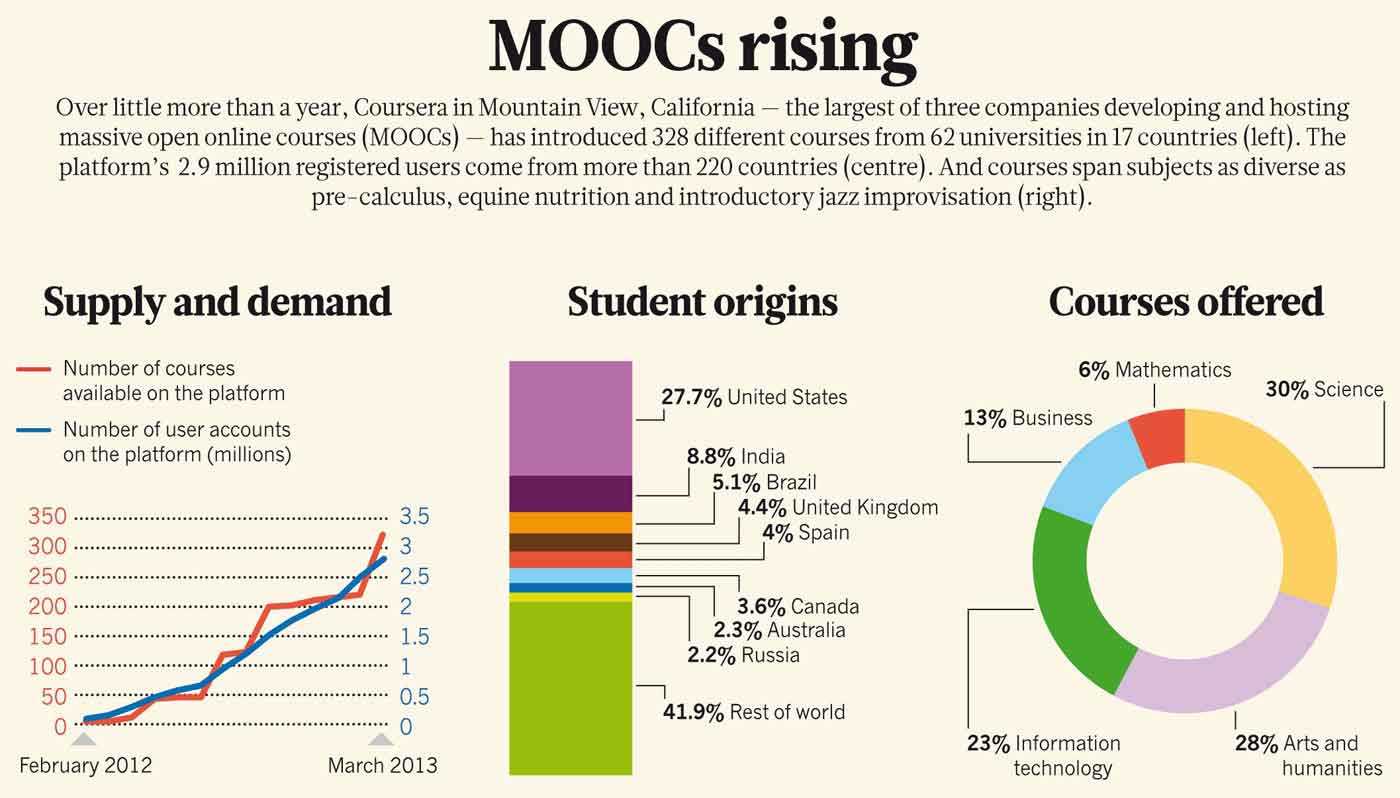 Go Old School
Although digital learning is all the rage now, there are still plenty of good old-fashioned events to keep kids involved in learning over vacation periods. Local libraries, historical societies, colleges and universities, and even your local school district will offer summer programming for students, and are likely to have activities available for spring break and winter break as well. Popular activities include:
Reading competitions at your local library.
Academic summer camps at local colleges or universities.
Recreational and social programs through organizations like the YMCA and the Boys and Girls Club, or your local parks department.
Volunteer activities through local non-profit agencies.
Work experiences and internships with local businesses..
Each of these "old school" activities offers a plethora of opportunities to build on the knowledge and skills your child already possesses, while also offering the chance to develop new knowledge and skills in a real world setting. Although not necessarily focused on one academic subject, these learning opportunities nonetheless offer experiences in which children can keep their minds sharp.
Another old school experience to consider is summer school. For many parents, the term 'summer school' likely has a negative connotation of being a place where struggling students go to earn back credit they've lost. However, many public school systems have shed the notion of traditional summer school and have begun offering fun, interesting, and high-level activities for students.
Large school systems, like
Chicago Public Schools
, offer a variety of classroom-based and field-based learning experiences for students in the summer. Kids can take part in cadet training with the police and fire departments, explore the city's art galleries, and learn how to code during coding days with technology experts. Chicago City of Learning offers special activities just for winter break. The program encourages children to make something with their hands, explore different attractions within the city, and get outside to be active.
Small cities also offer nouveau summer school options for kids.
Hopkins Public Schools
in Hopkins, Minnesota offers
half-day and full-day learning camps
that get kids involved in art, STEM, sports, and a variety of other activities. As with many new iterations of summer school, the Hopkins day camps include a healthy dose of the outdoors, lots of physical activities, as well as opportunities for experiential learning.
Criticisms of Learning During Vacations
Although the body of research demonstrates that extended periods away from school and learning have deleterious effects on students' academic retention and performance, some critics argue that kids still need time away from school. Vacations are built into the schedule to allow students (and teachers) some time to recharge, have fun with family and friends, and get out into the world. If kids are forced to take part in academic activities during break periods, critics worry that kids will become overwhelmed.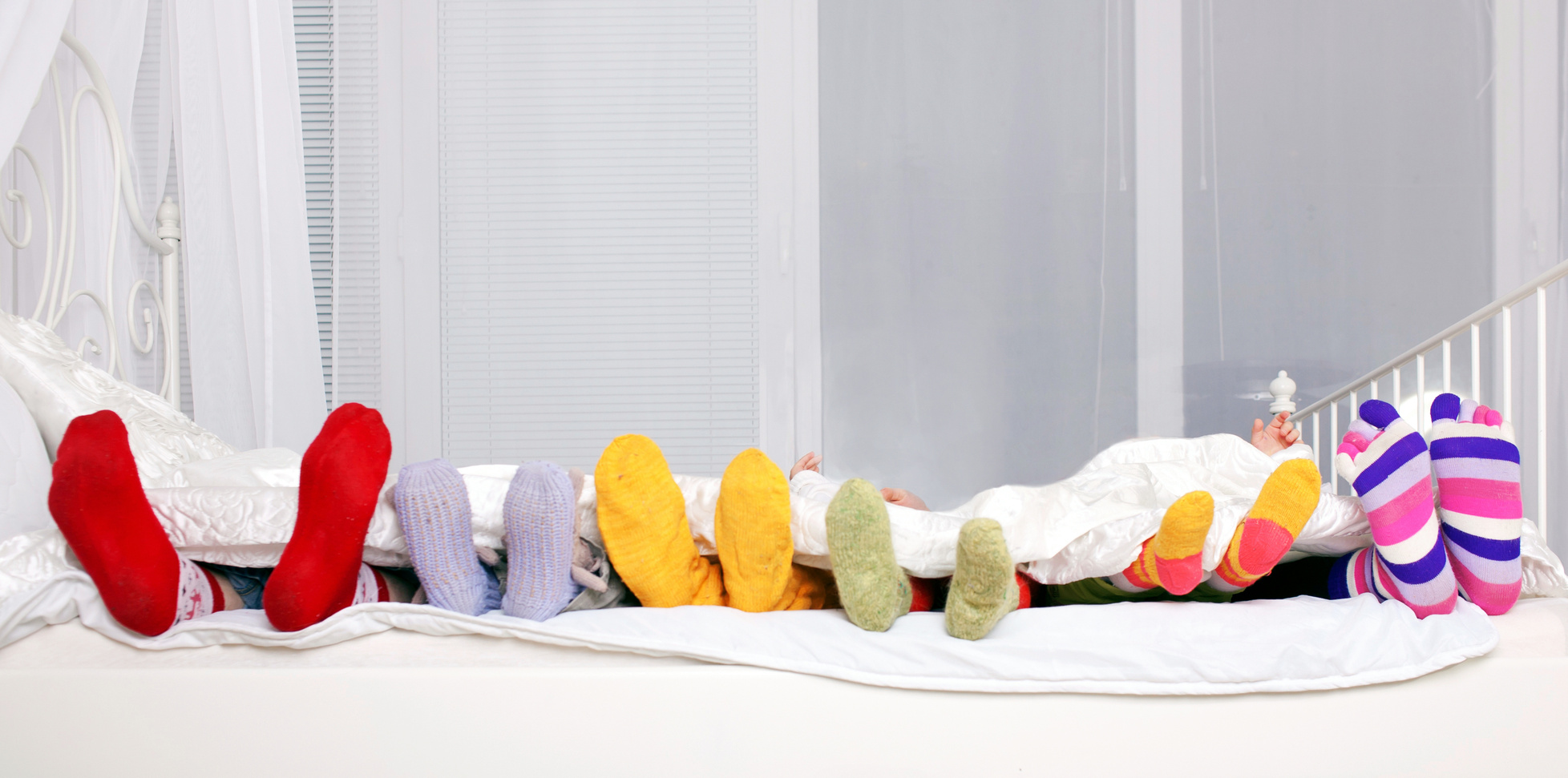 Another argument against formalized and structured learning during vacations is that kids need to learn to have an
effective and healthy balance between work and life
. Americans tend to take the worldview of working harder, faster, and longer, and pushing forward without taking time to rest and relax. In fact, research shows that
unused vacation days are at a 40 year high
, with the average American worker using only 77% of their allotted time off. In order to prevent the next generation of workers from continuing this trend, critics say children need to have their vacations without the requirement that they be involved in formal learning.
Research seems to support this point of view, as workers that take more time off demonstrate better effectiveness at work, higher job satisfaction, and improved performance reviews. Supporters of using vacations for purposes other than formal learning reason that if children are allowed to take vacation days, their performance at their "job" will improve. The key is to moderate that vacation time with some real-life, meaningful learning as well.
To prevent overloading your child with academics and preserve their time to regain their energy, learning during vacations might best be done organically. Rather than shipping your child off to a weeklong camp over spring break, engage with them in an organic fashion as you enjoy your break together. Take advantage of the teachable moments discussed earlier to help create that strong connection between academics and real life. Take vacations that promote inquiry, exploration, and learning, such as visiting historical sites and museums.
Conclusion
Whether you prefer to have your child's vacation days full to the brim with organized learning or take a more laid-back approach, what's most important is that your child keeps their brain engaged when they aren't in school. As we've discussed, engagement doesn't necessarily mean sending your child to his or her room to read for hours on end on a nice summer day. Getting out with your child and being active can provide just as many chances for them to exercise their brains as it does for them to exercise their bodies.
As with all things, moderation is generally the way to go. Finding a balance between taking a break and preventing brain drain will require some finesse, but once you and your kids are able to find that balance, you can get the best of both worlds: A child that is relaxed and refreshed, and one that doesn't need remediation when school resumes after vacation.