Salad Bars Grow in Number in Public Schools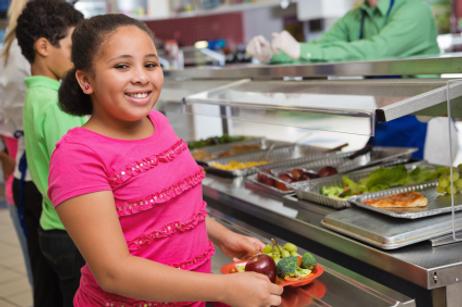 Public school cafeterias are growing their salad bars, much to the delight of students' healthy bodies. Learn more about this growing movement driven forth by First Lady Michelle Obama.
Forget the days of "pigs-in-a-blanket" and pizza for lunch. Today's public schools are hopping on the
fruits and veggies
bandwagon with more salad bars coming to schools this year. First Lady Michelle Obama's effort to get children to eat a more nutritious fare at schools has resulted in a lofty goal to bring salad bars to 6,000 schools across the country. The new program, dubbed, "Let's Move Salad Bars to Schools," was kicked off at
Riverside Elementary School
in Miami, Florida this month, according to
Colorlines
.
In addition to being the first elementary school in the country to enjoy the fresh fruits and vegetables the new salad bar offers, the school also received a visit from the First Lady herself. Mrs. Obama offered words of encouragement to the students to adopt healthier lifestyle habits that begin with
eating the right foods
. Mrs. Obama told the Riverside students that eating vegetables and fruits was important not just in developing their physical health, but their brain power as well.
"There are studies that show that kids who are eating their fruits and vegetables on a regular basis actually do better in school. Did you all know that?" Mrs. Obama was reported on
WhiteHouse.gov
to ask the crowd. The students responded with a resounding, "Yes!"
The Choice of Riverside


Riverside Elementary was chosen to be the first school in this initiative because students in the school have begun growing their own
garden
, filled with tomatoes, eggplant and kale, among other delectable selections. Mrs. Obama told students that she hoped to see the school
harvest their own produce and bring it directly to the salad bar
for lunches and snacks. The garden is grown in cement boxes, since the school does not have any additional land to use for growing crops.
"It is pretty cool, because you guys are showing that without a stitch of land you can plant a garden because you've done it in cement boxes," Mrs. Obama told the crowd. "And that's important for the whole country to know, that you don't have to have a big field to plant vegetables – because you guys have a lot going on in that garden."
Many of the Riverside students are also excited about the prospect of a salad bar in their school lunchroom. Luciano Cabrera, 12, told the
Scholastic Press Corps
,"[Salad bars] are important because they're nutritious and help you and your bones grow." Ashley Battle, 11, added, "[They're important because they make your brain stronger and give you more nutrients."
A Growing Trend


Riverside will not be the only school to flaunt a new salad bar. Mrs. Obama's plan includes 6,000 salad bars across the nation. Because the equipment needed for the salad bars is pricier than many schools can afford, a fund has been established on the
"Let's Move Salad Bars to Schools" website
. Grant information and applications are available on the website, as well as additional information about the need for fresh produce in school and how to go about qualifying for grant funding to receive a fully equipped salad bar.
The Taste Component


While everyone understands the nutritional value of fruits and vegetables, not everyone is so excited about the taste. To help in this area, the schools are enlisting the assistance of chefs in the area who are teaching staff and students how to prepare nutritious fare that delights the taste buds, as well as the body. Chef Frank Jeanetti told Scholastic, "I think [the salad bar program] is going to work fantastic. Everybody is going to see this all over TV and the news and you guys are going to be talking about it and I think everybody's going to be anxious to have it."
The "Let's Move Salad Bars to Schools" is part of the "Let's Move!" initiative the First Lady began after she moved into the White House and started her own vegetable garden there. The original garden was designed to help children in the
Washington DC
area, according to a report at
NBC Miami
. However, the movement quickly grew to an effort to stop
childhood obesity
, with recommendations for exercise, as well as nutrition education.
At this time, one in every three children in this country is considered overweight or obese. The additional weight gained in childhood raises the risk for a number of health conditions, including diabetes, high blood pressure and heart disease. Mrs. Obama's "Let's Move!" initiative is designed to help kids develop lifestyle habits that include nutritious foods and physical activity to keep weight down and children healthier overall.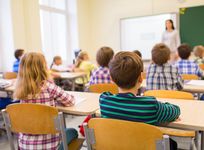 The Common Core State Standards Initiative has changed the course of education in the United States, particularly with its emphasis on standardized testing. But how does standardized testing affect teaching quality? Keep reading to find out.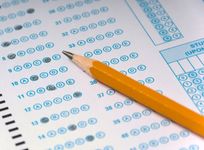 When asked to rank the quality of their child's school a B average. And yet politicians would have you believe that the American public-school system is failing. How are America's public schools really doing, and how do we know?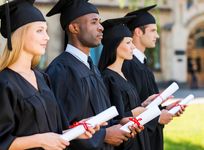 The high school graduation rate is in a constant state of change and dropout rates affect more than the individual student. Read on to learn about factors influencing high school graduation rates and what schools can do to improve them.