Is Your Child Eligible for Free School Meals?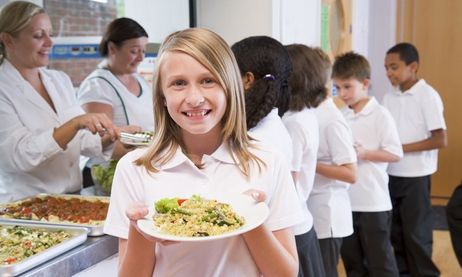 Learn about the National School Lunch Program, which provides free or low-cost meals to students, and see if your child can qualify for the program.
If your family is currently facing financial difficulties, your children may be eligible for free or reduced-cost meals at school. In today's soft economy, a rising number of students can qualify for food assistance - which is particularly important to providing
nutrition
that will promote optimal learning.
Although
school budgets
may be shrinking, the free meals program has been federally funded since 1946, when President Truman signed the
National School Lunch Program (NSLP)
. NSLP's purpose is to provide "nutritionally balanced, low-cost or free lunches to children each school day." To determine if your child is eligible for the lunch program, review the NSLP qualifications, which are discussed in detail in this article.
What is the National School Lunch Program?
According to NSLP's
Fact Sheet
, the National School Lunch Program offers assistance for students in more than 101,000 public schools, residential child care institutions, and non-profit
private schools
. Since 2007, NSLP has provided low cost and free meals, including both breakfast and lunch, to more than 30.5 million children every school day.
Additionally, with Congress' approval to extend NSLP's provisions, children have also been able to receive free or reduced cost snacks since 1998. Generally, these snacks are only covered for students who are under the age of 18 and who are also participating in an
extracurricular after-school
activity.
How Does NSLP Work?
While the NSLP is a federal program, administrators work directly with state agencies, who implement the program in their region. Any schools or districts that take part in NSLP are provided with cash subsidies and donated foods from the United States Department of Agriculture for each meal and snack that is served. To meet the guidelines of NSLP, participating
school cafeterias
are required to serve meals that meet Federal USDA requirements.
While each school meal is required to meet Federal guidelines, the specific foods and the methods for serving such foods are decided by local school leaders. Regardless of the meal options, every food item provided for eligible NSLP students is required to meet the following criteria:
The meal cannot contain more than 30 percent calories from fat

Contains less than 10 percent of calories from saturated fat

Each meal provides at least 1/3 of the USDA's recommend dietary allowances of the following:

Protein

Vitamin A

Vitamin C

Iron

Calcium

Calories
Requests for NSLP Assistance is on the Rise
According to
USA Today
, the dwindling economy has resulted in a remarkable increase in the need for NSLP support. As investigations reveal, "For the first time since 2004, a majority of cafeteria operators say the number of children getting free or reduced-price lunches has risen." As the School Nutrition Association has uncovered, 51.4 percent of food service directors reported an increase in requests for NSLP support since 2007. As job losses, lay-offs, and wage reductions are causing serious setbacks for many families, the NSLP may be some children's only reliable source of a well-balanced meal. While the economy struggles to recover, experts predict that the number of children eligible for NSLP will continue to rise.
Is My Child Eligible for NSLP?

Children attending schools that offer NSLP meals can enjoy free or low-cost meals if they meet specific guidelines. Students who are not eligible for NSLP, however, are still able to purchase any meals and foods offered through the program. Generally, a child is able to receive free or reduced meals if they meet basic guidelines such as:
A child whose family income is at or below 130 percent of the poverty level can receive free meals

A child whose family income is between 130 and 185 percent of the poverty level can receive reduced-cost meals (Students in this category are not to be charged more than 40 cents per meal)

If a child's family income is over 185 percent of poverty, the student will pay a€œfulla€ price for meals, which are actually still cost-subsidized by the local school district

After school snacks are provided for children using the same income guidelines; however, students attending a school where at least 50 percent of students are eligible for NSLP are all provided snacks free of charge
Based upon these requirements and the 2008 poverty line, your child is eligible to participate in the NSLP program if your family meets the following income guidelines:
A family of four must earn $27,560 or less for free lunches

A family must earn a maximum income of $39,220 for reduced cost meals
In today's economic climate, more students than ever qualify for free or reduced cost lunch. If your family qualifies, speak with your child's school for the local application, which is typically available in 26 different languages.
While students are enjoying time off this summer, school district officials across the country are grappling with the issues associated with Common Core Standards, as well as plenty of opposition from parents and teachers.
As more schools return to in-person learning, teachers and parents find themselves dealing with the trauma and stress created by the pandemic.
After more than a year of remote learning, schools are finally returning to in-person instruction but how has the pandemic changed the face of public education and what will it look like moving forward?