Should Parents Be Paid for Their Child's Public School Success?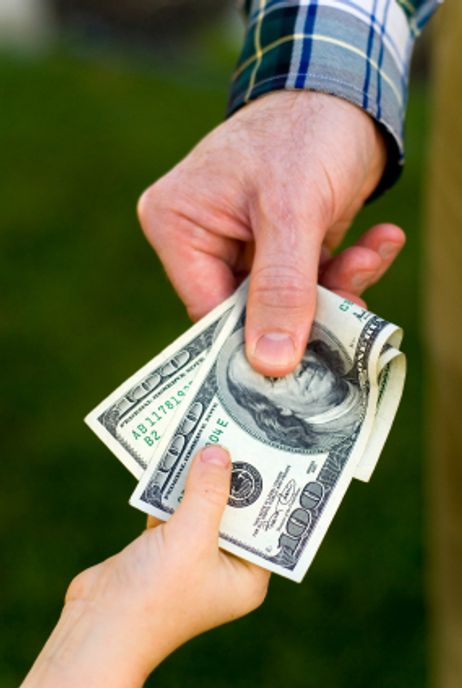 Learn about the debate surrounding paying parents for their student's academic performance in public school. Can cash motivate parents into encouraging their children to obtain better grades in school?
Paying for academic performance has become a consistent debate surrounding public schools. Should children be monetarily rewarded for their grades? What are the pros and cons of financially rewarding teachers for their students' performance?
Amidst all of these questions, a new theory has entered into the ring. Some believe that parents should also be financially remunerated for their child's public school success. To explore this possibility, some public schools across the country are experimenting with controversial cash incentives for parents, hoping that the "bribe" will help parents take on a more active, and much needed, role in their child's learning.
Will Paying Parents Boost Student Performance?
According to investigations from
Time Magazine
, programs providing cash motivation to parents have been seen in public school districts in nearly every state. While the moral and ethical appropriateness of such agendas continues to be clouded with controversy, recent studies show that these tactics actually work!
Specifically, a non-partisan social-policy research group, MDRC, found that cash-incentives actually helped increase lower-income
students' performance
and retention rates. In their study, MDRC discovered that families who were offered financial incentives for positive performance earned both increased grade point averages alongside enhanced feelings of
confidence
.
Adding to the reports of Time Magazine and MDRC, CNN also examined the potential advantages of financial rewards. Teachers of various public schools in Des Moines, Iowa were simply fed up with watching students passively fail through each class and semester. Driven to find a solution, education activist Paulette Wiley decided to hold a community meeting for school leaders and parents. To encourage attendance, she promised to pay parents $25 just for showing up! Amazingly, Wiley found that the parents who attended were active listeners and contributors to the school improvement discussion, and many parents left the meeting in tears, expressing relief that other parents and
teachers
shared similar concerns about their own children's academic struggles.
While schools in New York, Texas, and Arizona have implemented various plans to pay students for increased results, Wiley is among the first leaders to actively target parents. According to Wiley, the parents of a specific Des Moines community felt disconnected from the school system; as a result, Wiley argued that offering a financial incentive helped encourage parents to establish a new and more positive relationship with the schools, allowing parents and leaders to reconnect and engage in new plans for student success.
With great feedback and results, Wiley's idea has evolved into a movement, titled "The Education Brain Trust" (TEBT). With this development, TEBT teaches parents how to work with teachers, how to help guide students through homework – all while parents are even provided with food and on-site babysitting when they attend the TEBT events!
Examining the Debate: The Pros and Cons
While many communities and leaders are noticing the positive results from financially rewarding programs, these shifts in education are ruffling quite a few feathers. Individuals opposed to such plans tend to assert that providing money for parental involvement simply demeans the educational process, as parents should, by the core nature of their roles in a child's life, already engage in supporting their child's academic progress. Adding to this, many argue that public schools should boost their students' success by changing the environment and instructional habits within the school; by paying parents, an unsuccessful system can continue to operate while parents are simply rewarded at the surface level.
Despite these claims, however, many educators in the lower-income Des Moines areas disagree. As one teacher explains, "From my experience, the lack of
parental involvement
has not been from parents not caring… They may be working two jobs, they may not have transportation to and from school, they may not speak English." As educators, especially in lower income areas, assert that their community's state of poverty disrupts a child's learning, schools should strive to take whatever measures are necessary to ensure no child falls through the cracks and is left behind. In fact, the models offering financial rewards for parental support are often based off global strategies, as countries around the world use similar techniques to enhance the learning and development of their community's youths.
Yet, in spite of rave reviews, there are still realistic, ethical, and economic constraints. While the Des Moines program is funded with grants and donations, critics still argue that that plans offering financial rewards for a child's success are simply unsustainable attempts, especially in a
recession
, to bribe parents for the involvement they should already have.
Questions? Contact us on Facebook. @publicschoolreview
Being a teacher has never been easy but changes in federal funding and legislation have made it harder than ever for public school teachers. Keep reading to learn more.
Say goodbye to mystery meat - and all other types of meat - at public school cafeterias that are embracing the Meatless Monday trend.
Growing cases of contaminated tap water at public schools around the country are raising more than eyebrows. Learn about whether or not public schools' tap water is safe to drink.