How to Save Money When Preparing for Prom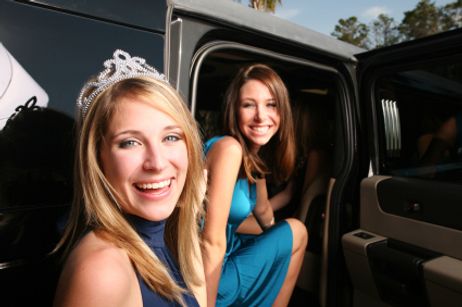 Parents and students can save money while preparing for prom with these savvy tips. Learn about what schools across the country are also implementing to help ease the burden of prom.
Whether our
economy
is growing or declining, high school prom is almost always guaranteed to be a costly event. With the price of tickets, the cost of renting a suit, buying a dress, paying for hair appointments, and even hiring fancy transportation, students often shell out hundreds of dollars for this ultimate high school
dancing
celebration.
To provide students who are struggling to scrounge up the cash for all of prom's accoutrements, many schools and leaders are creating programs and groups to stimulate community-wide support. As prom allows soon to be graduates to celebrate their long paths of education, many school leaders assert that the students should be rewarded for their efforts without worrying over how to pay for all of the costs.
The Price for Prom
As proms have become increasingly more extravagant over the years, the price for students desiring to attend has similarly soared to often outrageous heights. As USA Today reports in their article,
"Prom Costs HOW Much?"
, many families are struggling to afford all of prom's "necessities." According to USA Today, a single night of prom can cost around $400 to even $3,000 and up! According to the report, students tend to add items to the prom tab that include:
$90 to $150 for transportation
$10 to $125 (and up) for prom tickets
$25 to $100 on cameras and photography
$70 to $250 on a rental tuxedo
$150 to $500 (and up) for a dress
$10 to $40 for women's accessories (shoes, jewelry, etc)
$15 to $150 for professionally styled hair
$20 to $30 for flowers
And the costs even continue to grow from here! Some prom goers spend extra dollars on a fancy dinner, professional manicures, and other extravagant activities.
How to Cut Prom Costs
While price of an actual prom ticket will not be easy to negotiate, students and families can cut costs without making big sacrifices through a variety of alternative options.
Dress Swap
For girls looking to attend prom in style but struggling to find an affordable dress,
North Andover High School
in Massachusetts came up with a creative and appealing plan. As the
Eagle Tribune
Reports, the high school hosted a Prom Dress Swap event at the school, where with the admission price of just $10, students were provided with donated and gently used prom dresses. Local students, graduates, teens, retailers, and residents all donated their fashionable and nearly new gowns. The school, to help all prom goers in the area, allowed any high school teen to attend, and then utilized the $10 admission charge to help cover the overall cost of the Andover High prom. By using the admissions to the dress swap to pay for prom, the entire student body was able to benefit from cheaper prom ticket prices!
In addition, the school even arranged for interested prom-related vendors, such as hair stylists, limo companies, and other businesses, to provide coupons for attendees of the gown swap event. Adding to this gown swap approach, students whose schools do not provide a swap event can still find a high quality dress without the cost. Specifically, many students seek out high-quality consignment shops to find donated dresses.
Share the Fun!
In addition to taking advantage of lightly used dresses, many students cut costs by simply sharing some of the prom activities. For example, as The Daily Press reveals in their article
"Save Money on Prom Inconspicuously,"
students who typically rent limos are beginning to share their transportation with a large group of fellow prom goers. Oftentimes, limos can accommodate up to 15 to 20 people; thus, by sharing the ride, students can more suavely split the costs!
Exchange Additional Alternatives
In addition to sharing some of the prom-related items and activities, many students also save money by simply sacrificing some of the costlier options. For example, instead of dining out at an expensive restaurant, students can all join together at a parent's house to have a shared meal prepared out of someone's home. Parents can join funds to cover the costs, or students can each donate a bit of money to help out.
Also, instead of buying flowers from private or expensive florists, many parents are finding that wholesale / bulk stores offer high quality flowers at nearly half the price.
Finally, instead of paying for the pictures from a professional photographer who charges $5 to $25 per photo, students can simply snap their own pictures of the event.
Today's soft economy means more teens are looking for ways to save costs on prom. Thankfully, with these tips, prom can still be a memorable event – while leaving parents with a thicker pocketbook!
Say goodbye to mystery meat - and all other types of meat - at public school cafeterias that are embracing the Meatless Monday trend.
Growing cases of contaminated tap water at public schools around the country are raising more than eyebrows. Learn about whether or not public schools' tap water is safe to drink.
Schools all over the country have closed their doors to slow the spread of COVID-19, forcing educators and parents to switch to online learning strategies. Read on to learn where to start with homeschooling and for helpful resources for learning at home.