The national average public school student size is approximately 514 students (2023).
The state with largest average public school student size is
Georgia
with 751 students.
The state with smallest average public school student size is
Montana
with 176 students.
The public schools with the largest average student size in each state are listed below (where sufficient data available).
Student Size Range:

176
751
Avg. Student Size:

514
Average Public School Student Size By State (2023)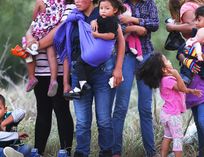 Public Schools Struggle to Accommodate Unaccompanied Migrant Children
Undocumented and unaccompanied migrant children, particularly among Hispanic populations, are rapidly increasing in number, especially in the southern United States. Federal law requires public schools to provide services to all children. Yet, many schools are struggling to accommodate this new wave of potential students who come to them without parents or guardians, while some municipalities are flat out refusing to accommodate these children.